Lottery
Whether your number comes up or not, your money goes to a great cause, right here in Liverpool.
Woodlands Hospice Lottery plays a vital part in our fundraising with all profits from the lottery going directly to the Hospice. Your £1 really can make a difference to the lives of our patients and their loved ones.
How It Works
Each entry in the lottery costs just £1. When you register as a member, you will be sent your own unique number which will be entered into the draw for you every week. The lottery computer randomly chooses nine winners every Friday. You don't even have to claim your prizes as cheques are sent out automatically following each draw. (Although you can check which numbers have been drawn here)
All the prizes are won each week there are no shared prizes or rollovers!!
There is £750 in cash prizes every week.
1st prize £500, 2nd Prize £100, 2 prizes of £50 and 5 prizes of £10 each.
The success of the Lottery in recent years has created an important, predictable stream of income for the Hospice, and one that is important to grow for our future.
Please download an application form to join our weekly lottery, call 0151 529 2308 or email woodlands.­lottery@­aintree.­nhs.­uk.
Please note that an applicant MUST be over the age of 16 and a UK resident to participate in the Lottery. Please see our Full Terms and Conditions.
Lucky Lottery Player won DOUBLE the money in our Autumn Superdraw!
(Friday 29th September 2017)
Ed Lavery who won the £1000 first prize in our recent Lottery Superdraw popped in to the hospice to say hello and tell us how delighted he was to win. Speaking with Nick Morris, our Trading Manager, Ed said that he was so pleased to win the prize as he was currently busy with some home improvements and the money would come in really handy. Ed has been a Lottery member for a number of years so he was automatically entered into the Superdraw. However, he actually bought another ticket for an extra chance of winning - which turned out to be worth it!
We are really grateful to everyone who took part in our Autumn Superdraw. All profits from the Lottery go towards the care the hospice provides and make such a difference to the lives of the patients and families here at Woodlands Hospice. If you would like to join our lottery please call the Lottery Office for details on 0151 529 2308.
Ann wins Woodlands Hospice lottery with her first ticket!
(Friday 23rd December 2016)
Once again the lucky winner of Woodlands Hospice weekly lottery, Ann, won with the first ticket she had ever purchased. This follows on from our winner Alan who won £500 back in September with the first ticket he had purchased.
Ann said: "Joy called from the Hospice lottery office the Friday before Christmas to say she had something nice to tell me. I had won their weekly lottery. Not only that but it was their Superdraw so the top prize had doubled to £1,000! At the time I was feeling particularly sad as the family were trying to come to terms with the very recent news that my brother who lives in Australia had been diagnosed with cancer. So to receive such nice news brought a smile to my face."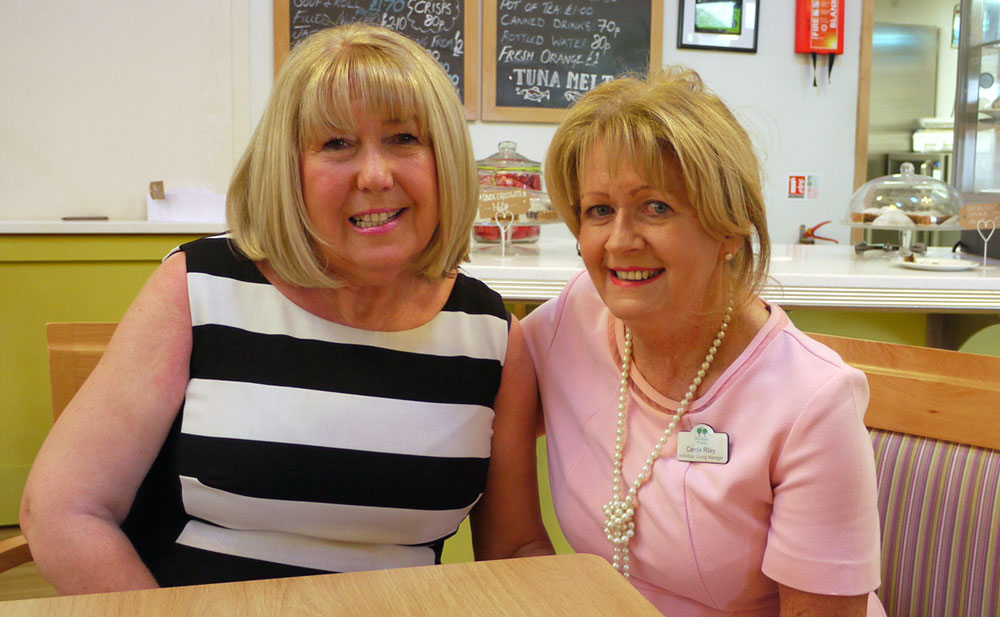 Ann Warburton already supports a number of charities and decided to sign up to join the Woodlands Hospice weekly lottery at Total Fitness, and won the lottery super draw prize of £1,000 on Friday 23rd December 2016.
Ann, who lives local to the Hospice, is married to Billy and has 27 year old twins Jonathan and Leanne. She has two brothers, both of whom live in Australia and an older sister Eileen. Ann is not a stranger to the Hospice having friends who have been cared for at Woodlands, and has previously taken part in the Hospice Starlight Walk and attended the Light up a Life service. Her brother had been back to the UK for a month last year to visit a very close friend who was being cared for at Woodlands.
Ann lives life to the full despite having suffered a stroke ten years ago followed by breast cancer three years later. Prior to Ann being discharged from hospital after five months following her stroke a scan identified a brain tumour which had grown over eight years. Two years further down the line the tumour was removed at Walton Neuro and thankfully was non-malignant. She enjoys water aerobics, Spanish lessons, travelling abroad and is a member of the Choir at Fazakerley Hospital. She is very aware of the importance of the work of charities and continues to benefit from the Stroke Association Support Group.
Ann said she has no immediate plans for her lottery win money as she just wants to focus on supporting her brother during his treatment.
Whilst sharing her story of her lottery win with Carole Riley from the Hospice it became clear that they were former colleagues, having worked together many years ago at GPT (GEC Plessey Telecoms). What a small world!
Carole was delighted to meet Ann again after so many years. She said: "I remember Ann for being so bubbly, always happy with a smile on her face and such a lovely person that everyone liked. She has not changed at all! She looked absolutely fab, so stylish and still with that lovely happy smile despite all the health issues she has dealt with. She is an inspiration!"
Our photo shows Ann and Carole when they met at the Hospice on Ann's recent visit to Woodlands.
One Lucky Lottery Winner!
(Friday 23rd September 2016)
One of the nicest phone calls we make each week is to advise one lucky lottery member of their £500 win!
Alan really did strike it lucky on Friday 23rd September. He won £500 in Woodlands Hospice Lottery after purchasing a ticket for the very first time!
He visited the Hospice early in September with his sister Brenda to pick up a Forget-me-not flower in memory of his brother-in law Brian, and decided to buy some tickets.
His brother-in-law had been a patient for a short time in July, and Alan wanted to give something back to support the Hospice. He was delighted about his win and said he looked up and thought "this is definitely Brian looking down on me".
The win could not have come at a better time as Alan was preparing for his marriage to Colette on Thursday 6th October. He and Colette (pictured here) had a small family wedding at St George's Hall followed by a meal at Matou.