Every year the whole nation is gripped by the annual spectacle of passion and excitement that is the Grand National.
Why not have some fun this year, whilst raising money for your local hospice by hosting your own sweepstake?!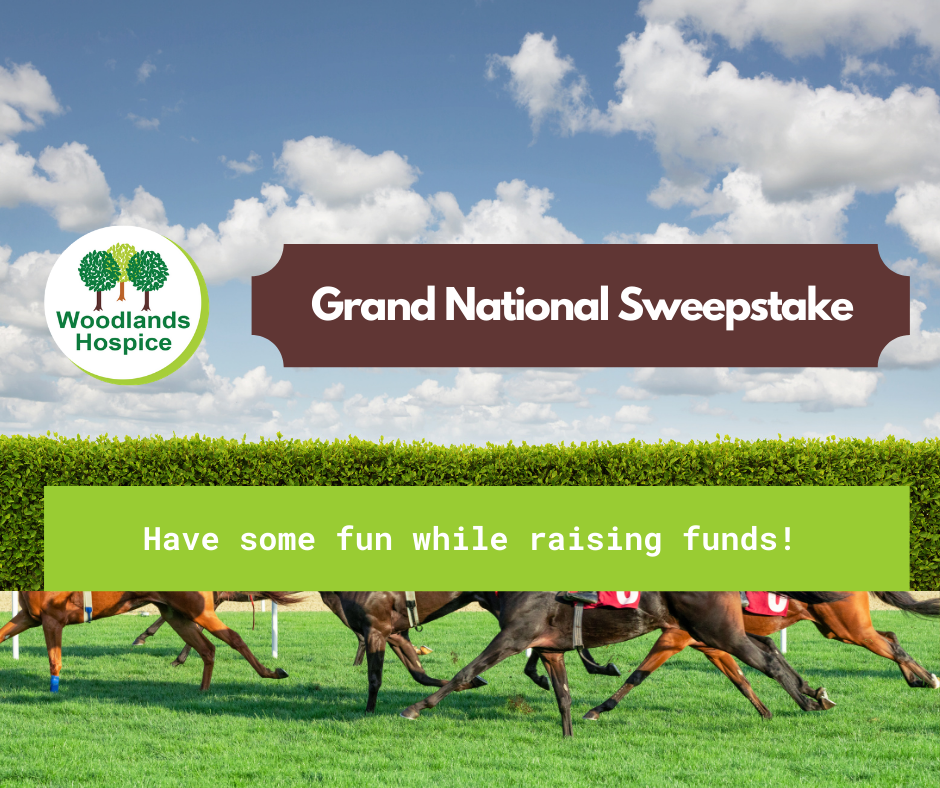 How to get involved...
If you've never held your own sweepstake before, fear not! Below we explain how it all works and how you can use your sweepstake to have fun and support the work of the hospice.
Step 1:
Step 2:
Decide on your stakes and how you will split the pot. This is completely up to you! You may want to charge people £1 per go or go higher at £5 per go. Once you know how much your sweepstake will make, you can set your prizes!
EXAMPLE: If you charge £3 per go, you'll end up with £120 in the pot. Winner gets £50, second place £10, third place £5. That leaves a charity pot of £55 to Woodlands Hospice!
Step 3:
Next up, round up your friends, family or colleagues to take part! Aintree Grand National has 40 runners so your aim is to sign up 40 people to your sweepstake, remember - the bigger the pool, the better the competition! If you have less than 40 people, that's fine too! People can buy more than one horse to increase their odds of winning, although, they'll have to cough up a little more!
Step 4:
When the horses names are released for the national, get a copy in your local paper, print them out or even copy them on to scrap paper, cut up, fold and place them in a hat (or another suitable container). Draw a runner for each person who has entered your sweepstake. If you're holding a Grand National party, get your guests to draw the runners themselves! Use your Aintree Sweepstake sheet (download here) to list your participants names and who their horse is.
Step 5:
Once the race is over, crown your winners. When they've claimed their prizes, donate the remainder of the pot to Woodlands Hospice! You can send your donations across online via this link: or please contact, Community Fundraising Manager, Paula Parle at paula.parle@liverpoolft.nhs.uk / 0151 529 2640 / 07772952503 to discuss the various ways we can process your donation.
Pay in Link:
https://­wood­land­shos­pi­cec­ha­rit­ab­letrust.­enthuse.­com/­2023Gran­dNa­ti­onal­Swe­ep­stake#!/
Good luck!