Light up a Life Appeal 2017
Light up a Life 2017
At Woodlands Hospice we know Christmas can be a very difficult time if you have lost a loved one, or if you cannot be someone you love. Our Light up Life appeal gives you the opportunity to celebrate the life of a loved one by dedicating a light on our Christmas trees in December.
Our beautiful Christmas tree at the Hospice is a truly amazing sight, seeing it adorned with hundreds of lights and knowing each light is dedicated to someone has such a special meaning. These lights continue to shine brightly throughout the festive season in celebration of your loved ones. Every light that shines out from our Christmas trees is a heartfelt tribute to those who are missed but definitely not forgotten. We will also have a tree of lights at St Andrew's Church in Maghull.
By dedicating a light to your loved ones, you will not only be celebrating their life, you will be helping us to support our patients and their families at a time they need it most. You can dedicate a light to anyone you choose. They do not need to have been a patient at the Hospice – they could be someone who cannot be with you at this time of year who you will miss very much.
That is why Light up a Life is such a special appeal as it brings people in many different situations together at a difficult time.
Each name dedicated will be carefully recorded in the Book of Life, which will be available to view at the services being held at the Hospice and at St Andrew's Church, Maghull. You will also be able to view the Book of Life online, after our services take place or at the Hospice throughout 2018.
For each light you dedicate you will receive a special card containing the name of your dedication, as it appears in the Book of Life, and you will have the opportunity to attend one of our services on 3rd December at Woodlands Hospice (4pm) or 4th December at St Andrew's Church in Maghull (7pm).
To dedicate a light to a loved one, please click here to register online or click here to print a form and send into the hospice with your donation. Alternatively please call Carole Riley on 0151 529 4143 for more information, to make a dedication over the phone by debit/credit card or to have a form posted out to you.
---
Anna Edwards and her family are supporting Woodlands Hospice's Light up a Life Appeal 2017 in honour of her husband, Mark. Anna shares her families experience in the hope that others will come help the Hospice by dedicating lights in honour of their loved ones ….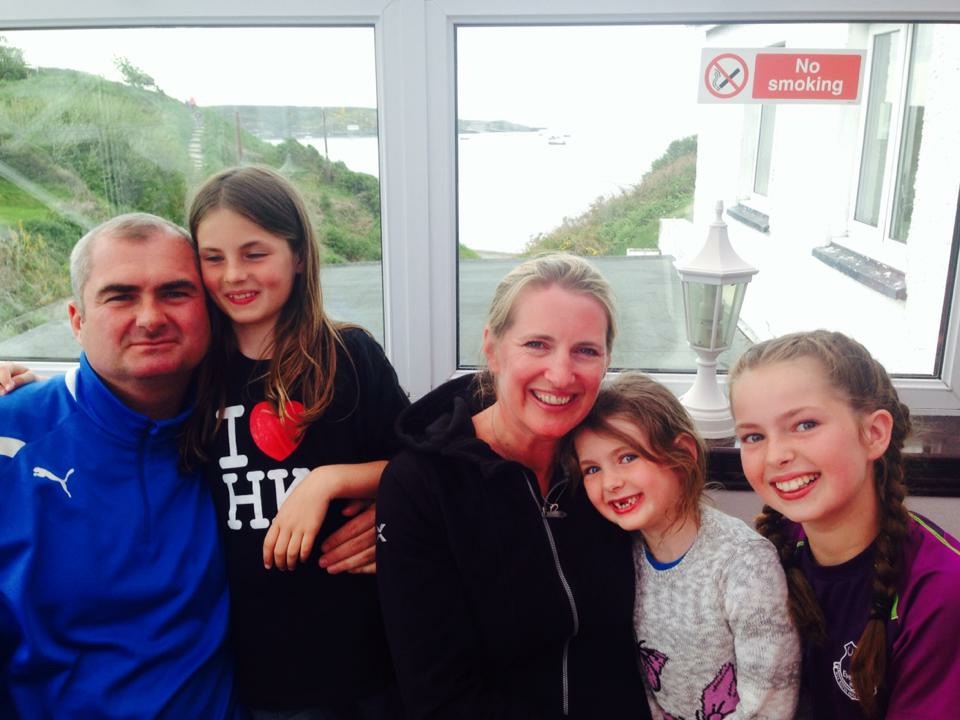 "One Life Lived, Many Lives Touched"
Was the quote used by the Edwards family to describe Mark – a much loved husband, father, son and friend. Mark Edwards sadly passed away in August 2017 at Woodlands Hospice. Mark's wife Anna, describes how Woodlands supported them, their three daughters Beth, Ally and Tori, Mark's Mum Barbara and Step-Father, Phil through this difficult time.
"The entire family just relaxed straight away at Woodlands, the girls had found it too distressing to visit Mark on the hospital ward but they actually enjoyed coming to the Hospice. They looked forward to seeing Elaine and Jan in the Family Support Team and would play in the gardens".

"The girls were thrilled to be asked to switch on the Christmas Lights and I think it will be lovely for them to honour Mark and be part of the Light up a Life service. By dedicating a light to someone special, you'll be helping Woodlands to continue to providing the care they do for their patients and their families, which we found so invaluable when we needed it most."
Our Light up Life appeal gives you the opportunity to celebrate the life of a loved one at Christmas by dedicating a light on our Christmas trees in December.