Take on a Challenge
Whatever your level of fitness, if you fancy a challenge then sign up to one of the events below and be part of Team Woodlands! Once you have registered, get in touch with us and we will send you sponsor forms, t-shirts and give you as much support as you need!
If you would like to become part of Team Woodlands, please contact Chris Beyga, Challenge and Events Manager, on 0151 529 8193 or woodlands.events@aintree.nhs.uk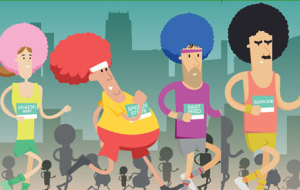 Run for Woodlands
Walk for Woodlands
​Hadrian's Wall Trek: Dates available in September 2019 & 2020, October 2019 and June 2020 More info Or if you're feeling really ambitious you can walk the entire 84-mile length from coast to coast!
National 3 Peaks Challenge: Conquer the three highest mountains in England, Wales and Scotland in just 24 hours! This challenge can be undertaken as part of an organised event or with your own group. More info
Cycle for Woodlands
Join the Woodlands Wheelers!
Woodlands Hospice has launched an exciting new cycling group that supports each other in local and national cycling challenges whilst helping raise money for the Hospice. If you are interested in becoming a member, please get in touch with us or click here to join the Woodlands Wheelers Facebook group for more information and support from fellow members.
Other Challenges for Woodlands
ZipWire at Velocity: Velocity, in North Wales, is the longest Zip line in Europe and the fastest in the world! It includes a pair of zip lines a mile long, where riders can exceed 100mph, 500ft high and experience the nearest thing to flying. Go on - be brave! What are you waiting for! Book now for a date that suits you.
Go further afield for Woodlands
There are a range of fantastic walks, treks and challenges taking place all over the world in some incredible locations.
The Vietnam to Cambodia cycle challenge is just one example. This 11 day trip will take you from Ho Chi Minh City all the way to the ancient temples of Angkor Wat in Cambodia, featuring breathtaking scenery along the way.
Tanzania, on the eastern side of the African continent, is home to Mount Kilimanjaro, which at 5,895m is Africa's highest and the world's highest free-standing mountain. This demanding yet rewarding trek takes seven days and covers dense rainforest, moorland and scree. Not one for the faint-hearted, but you will be rewarded with spectacular views of the African plains as you make your way to the summit.