Virtual Challenges
Be active anywhere, anytime, with anyone. Run for charity, earn medals, feel great!
A virtual challenge is a fitness goal that tasks you to run, cycle or walk a certain distance over a specified period of time. Sign up to one of our brand new virtual challenges, and complete it anywhere, anytime, with anyone and all at your own pace. It's a great way of keeping fit and staying motivated to reach your individual fitness goals, as well as being ideal for getting the kids active and involved.
Submit your evidence to us that you have completed the challenge using app screenshots such as Fitbit, Garmin or Runkeeper or display your parkrun stats. Once we've reviewed your results, we will send you an AMAZING custom medal for you to wear with pride!
Running Around the Christmas Tree - #festivefun
Celebrate the festive season with a virtual 5K. How you achieve this race is up to you - you can run, walk, jog or even dance your way to the finish line!
Upon completion and proof of run, along with your 5K finisher medal and a fun certificate, if you collect from us you'll receive a festive sweet treat!
Sign up today and have some #festivefun
Light up the Night Virtual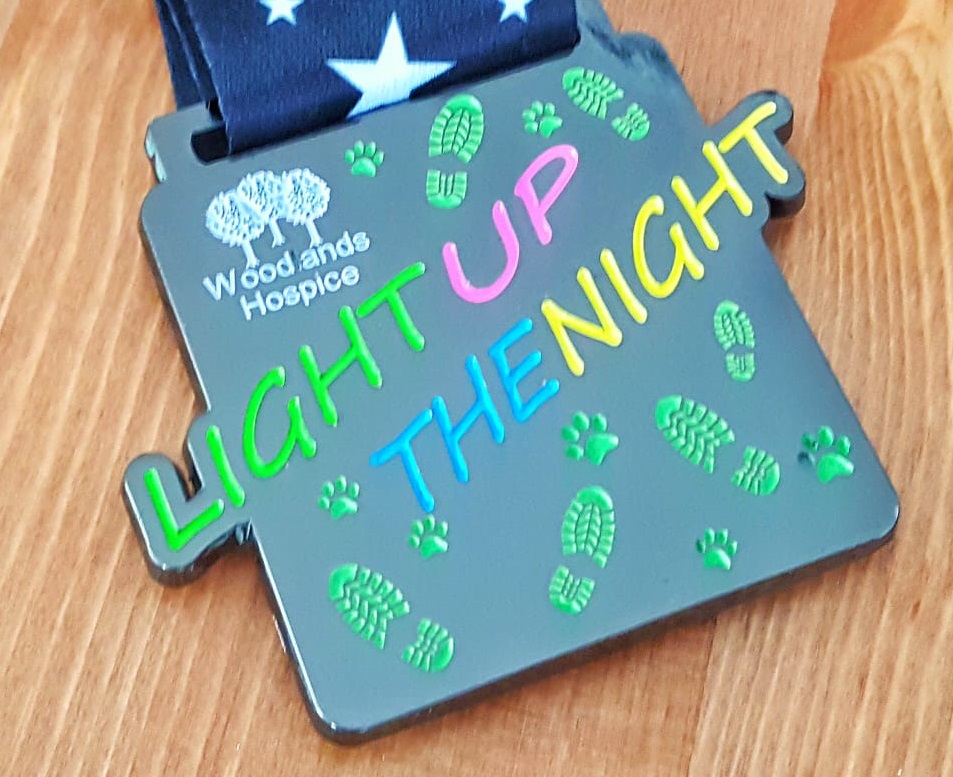 Did you miss out on our recent Light up the Night event? If so, don't worry as you can still take part by doing a virtual walk for us instead!
Simply get the family together, wear your brightest clothes and walk 5K in your local area. Send us the evidence of your walk and your medal will be on its way to you.
Join in today for your chance to #LightU­pThe­Night
Walk for Woodlands:­ The Million Step Challenge - #walkin­gfor­wo­od­lands
Take a giant step for people with life limiting conditions and a million little ones for you, by taking on The Miilion Step Challenge.
You'll need to tak an average of at least 10,000 steps a day to be successful, but how you do them and where you do them is completely up to you. Whether it's shuffling home from the shops, hiking up a hill, parking that little bit further away or getting down on the dancefloor, they all count.
Register now and get #walkin­gfor­wo­od­lands
10 in 10 Challenge - #10in10
Are you up for the 10 in 10 challenge? 10K a week for 10 weeks?
Submit your evidence weekly and move on to the next weeks' challenge and at the end of your 10 weeks, you'll be awarded with your medal. You can then sit back and smugly know that you raised money for a fantastic cause and challenged yourself at the same time!
Join Team Woodlands today and get started with your #10in10
Go Further Challenge - #gofurther
Are you planning your Summer (or Winter) Holidays? Are you planning to be active whilst you're there? Then we have the challenge for you!
Take your workouts further afield and see if you can WIN the Woodlands 'Go Further' Virtual Challenge! The total is made up of your distance from home + your workout miles whilst away + your distace from home. Added together this equals your Go Further Total!
Sign up today and see how far you can go