Your Challenge Stories
Billy's Snowdon Challenge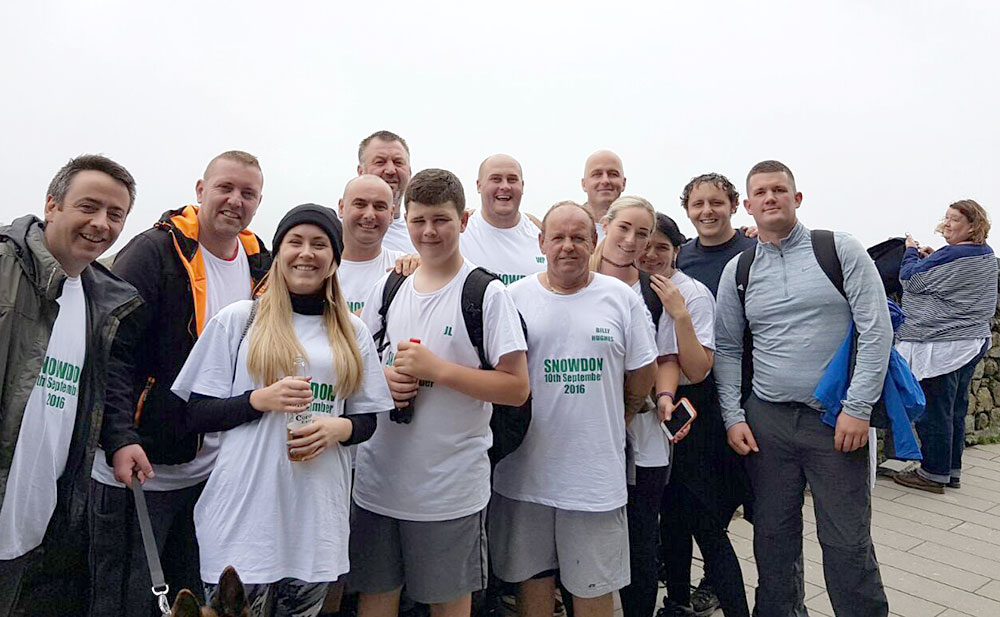 Billy Hughes and members of his family and friends took on the Snowdon challenge early in September 2016 in memory of Janice Hughes – a beloved wife, mother, daughter and nanny.
Janice's daughter Christina set up a Just Giving page to secure donations and sponsorship for the challenge and explained that during her mum's final weeks she was cared for at Woodlands, where she was "treated with dignity and given the support and comfort she needed".
She went on to say. "We wanted to raise as much money as possible so that others have the same level of care as our lovely mum who was so loved and is missed so much".
The family have raised an amazing £4,000 for the Hospice which is a fantastic result We are all very grateful at the Hospice to Billy, his family and friends for choosing to support us through their challenge.
The photographs show the group who took on the challenge, and the other is of Billy (Janice's husband), his grandson Jack and the youngest member of the Snowdon Challenge group who is his cousin Bud (James).
Lesley's Coast to Coast challenge
Lesley Thompson cycled an impressive 155 miles in a Coast to Coast challenge to raise money for Woodlands Hospice.
Lesley kept her Just Giving page updated along the way! Here is her some of her challenge in her own words.
"Day one of my ride with 50 miles ahead in pouring rain, cycling up Whinlatter Pass at 1043 feet above sea level was tough but very rewarding, not least cycling down ! - more steep hills from Keswick to Greystokes but I arrived in reasonable time and feeling fine.
Arriving at the highest café in England after an uphill slog into the clouds and mist - amazing feeling, not least flying back down the hill. Then onto Allenheads a remote village in Northumberland after around 8 miles uphill with wandering sheep a constant hazard ! The group was tired but all felt the same sense of appreciation that we were able to fundraise in this way - many are not.
We arrived in Tynemouth after 155 miles into sunshine, tired but elated. What an experience, the day took us through Stanhope in the Durham Dales, I had to walk up some parts here a fierce hill - after this the North Pennines were raw and bleak and into the beautiful Derwent Valley - ending in Tynemouth an amazing adventure and I hope worthy of your support.
I did it - thank you very much to all, Woodlands is an amazing place supported by incredible people and I am very proud that my efforts and your generosity will help this continue."
Speedo Mick's Channell Swim
SpeedoMick- what can we say? This amazing man has swum the channel for Woodlands, worn his Speedos to every Everton match for Woodlands and walked to Bournemouth for Woodlands! In doing so he has raised £60k for the Hospice. Mick has attracted lots of media attention and gained respect from football fans with his bravery and dedication week in, week out.
Michael Pye's Marathon
"I will be raising money for Woodlands Hospice by running in the Liverpool Rock 'n' Roll Marathon this year on 29th May 2016 in Memory of my Grandad, who sadly passed away at woodlands September 9th 2013.
"My Granddad has inspired me to appreciate and embrace the good times we have in our lives, he was a true gentleman and loved spending quality time with family, he has inspired me to run in this marathon and I am always looking for ways to make him and my family proud.
"My Family and I couldn't have thanked Woodlands enough for the care and compassion that we received whilst going through this difficult time in our lives. I hope by running this marathon I can help raise some money for Woodlands Hospice and inspire other people to make donations themselves in the future.
After the race Michael said: "All done, 26.2 miles, my first ever marathon, it was by far the hardest thing mentally and physically I've ever done, I would just like to thank all the spectators (especially my family and friends) and everyone who has donated, it really does mean a lot and it helped me through the race. All the training and hard work and crossing that finish line was all for you grandad, I'm now currently sunburnt and my legs no longer work!"
Capita's Snowdon Challenge
On Sunday 11th October 2015, 12 enthusiastic employees from Capita took on Mount Snowdon in Wales. It was a very eventful day; they even faced a challenge before embarking on the walk! Unfortunately they suffered a crash and had to be rescued by the RAC. Undeterred they went on to complete their walk. They now have a buckled wheel as a souvenir! Capita have taken some fantastic pictures of their day too.