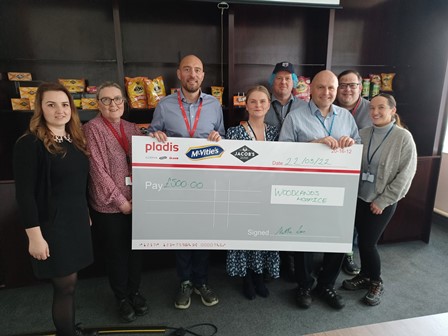 Our community fundraising Manager Paula Parle, was delighted to be invited to the Jacobs Factory last month to catch up with their team. Jacobs have been supporting the hospice in many ways, including volunteering their time and employees to complete leaflet drops within the community to donating their products as prizes for our community events such as Bingos and raffles.
As part of her visit, Paula was taken on a tour of the factory to see the work they do and how their delicious treats are created. Paula was even asked to sample items fresh off the press which she had to use all of her willpower to refuse due to giving up sweet treats for lent! Well done Paula!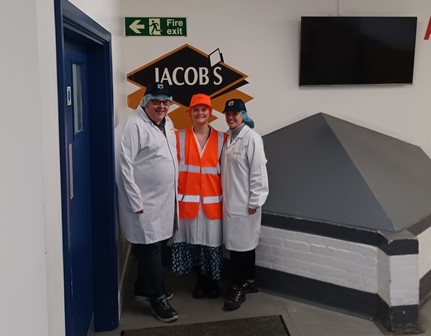 During the trip, Paula was delighted to be surprised with a donation of £500 from the Lost Time Accident Incentive Initiative that Jacobs took part in. Shelby Davis, Engagement Advisor for Pladis Global, who own the Jacobs brand, explained what this initiative involves:
"An LTA award is a Lost Time Accident-free award. An accident is a lost time accident if the injured person requires days off following a workplace accident. Depending on how many hours the site reaches, we get rewarded with either a Bronze, Silver or Gold award.
Aintree reached 500,000 hours LTA free in March 2022 and were rewarded with the Bronze award which came with a £500 cheque to be donated to a charity of site choice.
We chose Woodlands Hospice as it is an amazing local charity who we are delighted to partner with. The work the charity does is incredible and here at Aintree we are happy to contribute and continue to support the charity in any way that we can."
The team at Aintree are now working towards their Silver and Gold awards! Good luck and thank you all so much for your support!