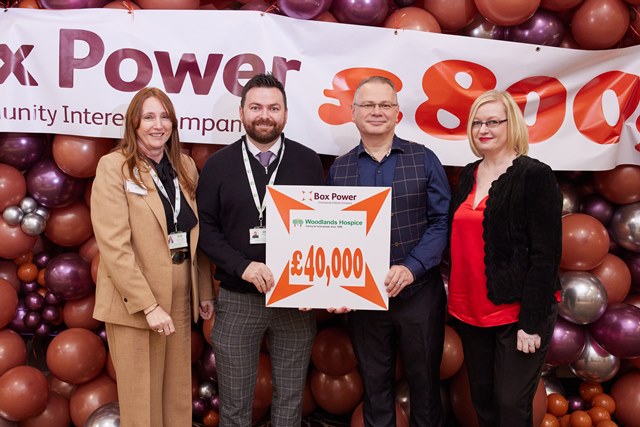 When the fundraising team at Woodlands Hospice discovered they had been awarded a grant donation of £20,000, they were overjoyed to receive such an incredible amount to help fund our services for patients and those closest to them.
Box Power was founded by Corin and Tricia Dalby in 2014, inspired by their son who has autism, with the original intention of supporting autism charities. They're a non-profit organisation, donating all of their profits back to charity. As the philanthropic company grew, they pledged to donate a staggering £1 million to charities within the North West with Woodlands Hospice being one of the lucky charities they chose to support.
All the chosen charities were invited to an event, hosted by Box Power, to be presented with their donations. At the event each charity received an extra surprise when they were told all donations were to be doubled - meaning Woodlands Hospice received an incredible £40,000!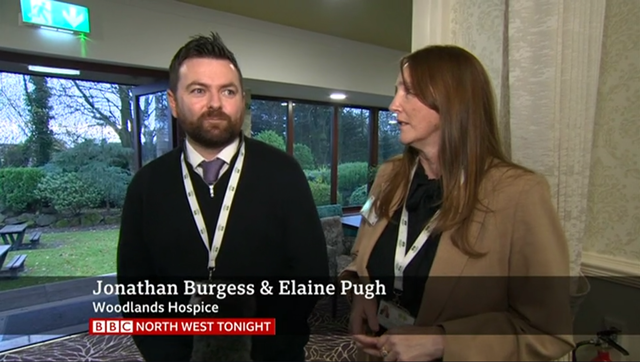 Jonathan and Elaine featured on BBC North West Tonight after receiving the donation
Elaine Pugh, Head of Patient and Family Services attended alongside, Jonathan Burgess, Head of Income Generation at the hospice and described how they were blown away by the company's generosity.
Elaine said, "This £40,000 donation will make such an incredible difference to the patients and families we care for and support at the hospice. It was a really powerful experience to stand in a room with so many worthy charities and see such an amazing act of generosity and kindness. Corin and Tricia were so inspirational and we can't thank them enough!"
Thank you to Corin and Tricia and all at Box Power for making this happen!