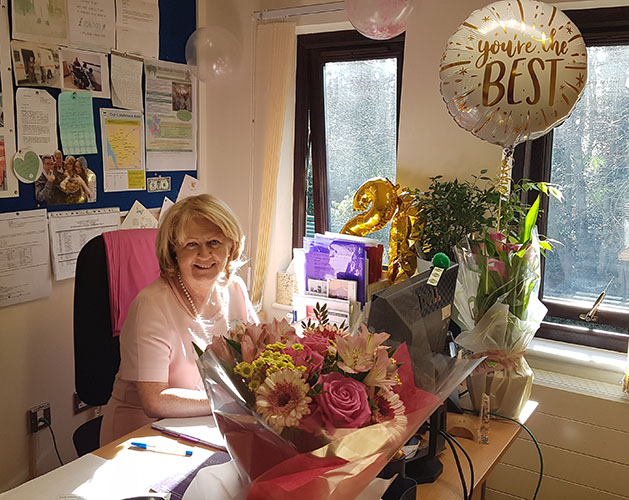 One of Woodlands Hospice stalwarts, Carole Riley marks two decades of working at the 'wonderful and caring' charity in March.
First starting with the charity as fundraising manager, over the years Carole has stepped in wherever needed across events, challenges, corporate communication and press liaison.
As Individual Giving Manager for the past six years, Carole currently ensures the supporter journey is a positive one across campaigns including the Forget-me-not Appeal, Wills, Legacies, Tree of Life and Regular Giving, as well as funeral donations in memory of loved ones.
But it's so much more than that for Carole, who says: "This role means the world to me. I thoroughly enjoy coming to work and never have that 'Monday feeling'", she said. "I find it a pleasure and privilege to work for such a wonderful, caring organisation.
"I've met so many inspirational people – supporters wanting to do their bit, volunteers giving their time so freely, community individuals and groups making their mark in their own ways, colleagues I've learned so much from and those I totally admire who care for patients and their families. Not least are the patients and families who never cease to amaze me in how they want to help, give back and make the most of every day making memories with often limited time to do so. And without complaint."
Responsible for the flowers and balloons around Carole's desk to mark the milestone, Head of Income Generation Jonathan Burgess said: "Carole is such a pivotal part of the team. Her enthusiasm, commitment and compassion for the patients and relatives she liaises with are truly remarkable. During the 20 years she's been with our charity, she's built relationships not just with individuals within families but across entire generations. It's wonderful and we wouldn't be without her."