Woodlands Hospice and Hospitality Action are once again the two charities to benefit from the monies raised at a prestigious awards evening that recognises staff in the hotel and restaurant industries in Liverpool.
As in 2016 the two charities are the key beneficiaries from the event that will be held at the iconic Titanic Hotel on Thursday 26th October 2017 when awards will be presented to staff from Liverpool's Hotels and Restaurants across a range of award categories.
The 2017 event promises to be even larger than the 2016 inaugural event with up to 17 award categories open for nominations. Categories will include Hotel & Restaurant Rising Star, Young Chef, Green Team of the Year, Unsung Hero and Heart of House being just some of the awards that will be keenly pursued and contribute to helping make the event popular.
Chair of Liverpool Hotelier's Association Marcus McGee said:
"Liverpool's Hospitality Sector is of immense economic importance to Liverpool and the Liverpool City Region with over 16,500 staff being employed. Hotels and restaurants play a huge part in the Visitor Economy with the number of staying visitors amounting to 4.9 million. This event is a great way to recognise and celebrate the importance of our staff in our hotels and restaurant industries".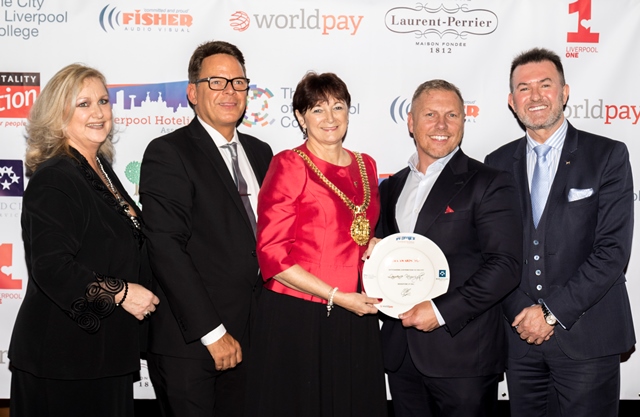 Photo from 2016 Awards Ceremony (L-R): Tracy Waddacor, Managing Director of World Class Service; Rossie from Radio City; Roz Gladden, Lord Mayor of Liverpool 2016; Lawrence Kenwright, Signature Living and Marcus McGee, Chair of the Liverpool Hotelier's Association.
If you would like to sponsor an award at this prestigious event please contact the Awards Host for the evening Tracy Waddacor, World Class Service on 07532 3286157 or Dawn Holding, Hospitality Action on 07766 753310.
If you would like to consider supporting Woodlands Hospice in 2017/18 please contact Christine Peach directly on 0151 529 8117 or Dawn Holding at Hospitality Action on 07766 753310.