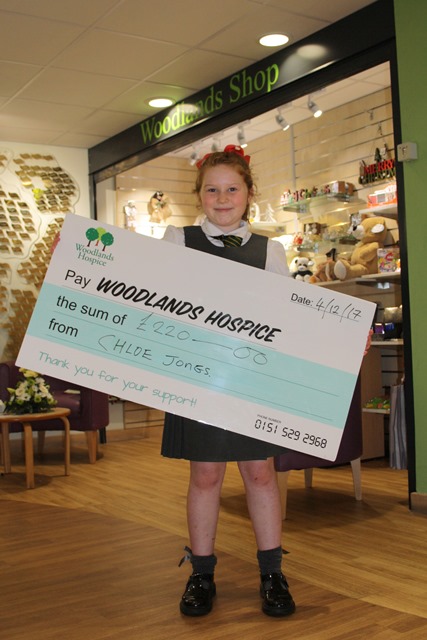 A pupil at St Paul's Catholic Junior School in West Derby visited Woodlands this week to present us with the money that she had raised following a sweet raffle at her school. The raffle monies were raised in memory of her Grandmother, Susan, who had been cared for at Woodlands Hospice.
Chloe had been so inspired by her wonderful Grandma Susan that she not only wanted to fund raise for the Hospice that cared for her, but also wanted to continue the wonderful story-telling tradition that Grandma Susan had started with her. Chloe so loved the stories that she used to listen to that she has now started to write her own stories about a mouse called Simon! She hopes that in the not-too-distant future her lovely stories will be published for other children to enjoy for many years to come.
Christine Peach, Corporate and Community Fundraising Manager, was extremely impressed with Chloe's efforts:
"Chloe is an incredible young lady. She has taken it on herself to raise a fabulous amount of money and, what's more, she is also a very talented budding author. She is a credit to her parents and her school and we are very grateful for all the effort she put into her fundraising. We also wish her luck in her writing career!"
If you're a pupil, teacher or parent interested in running a raffle or fundraising event for Woodlands at your school, please contact Christine Peach on 0151 529 8117, or email christine.peach@aintree.nhs.uk.