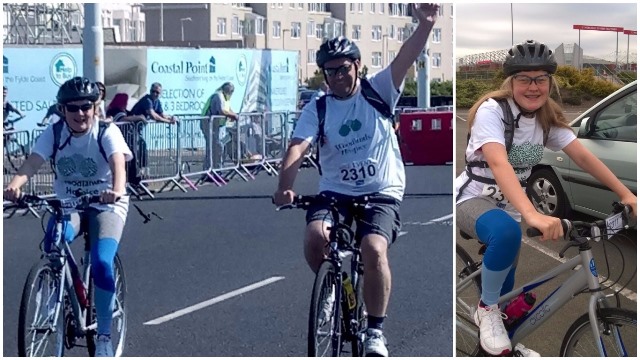 An inspirational father-daughter team took on an incredible cycling challenge to fundraise for Woodlands Hospice. Ian and Emily Shaw cycled 60 miles in total from Manchester to Blackpool in honour of Emily's grandfather, and Ian's Father-in-Law, Michael Hunt.
Michael was due to attend Woodlands Hospice for patient care, but sadly passed away before he was admitted. However, after hearing of the work Woodlands Hospice provides for many other patients and their families, the Shaw's decided to fundraise for the Hospice in Michael's honour. After raising £400+ from a collection at Michael's funeral, Ian and Emily decided to continue by taking on their incredible challenge which took place on Sunday 9th July 17.
Ian explained how his 14 year old daughter, Emily, was motivated to really push herself for the challenge, saying:
"Originally, we were just going to cycle from Liverpool to Chester and I was going to complete the Manchester to Blackpool trip alone as I've done it a few times before. Emily just asked - 'well why can't I do that one too?' - so the Liverpool to Chester ride ended up being our warm-up the week before!"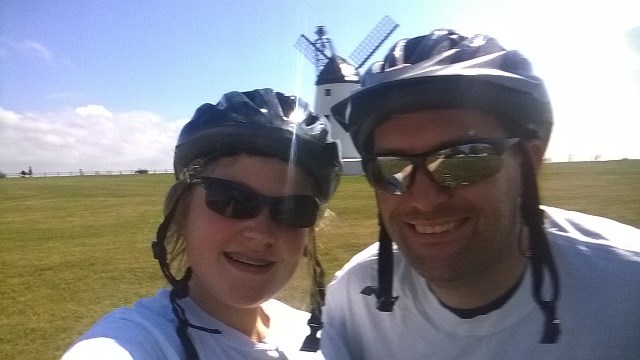 Emily and Ian snap a selfie on a well deserved break along their way
The proud Dad added,
"Emily did a fantastic job, it was a hot day and there were quite a few hills so it was a tough ride, but with a few rest stops on the way we completed it in 8 hours which is a really good time for a 14 year old who's never done it before."
So far the duo has raised approximately £1,200 for their charity cycle ride, with donations still coming in. Adding this to the £400+ raised at Michael's funeral, the family are hoping to raise over £1,600 in total for the Hospice. As the family has raised over £1,000, they also plan to dedicate an engraved gold leaf in memory of Michael on the Woodlands Hospice 'Tree of Life' as a permanent way to honour him.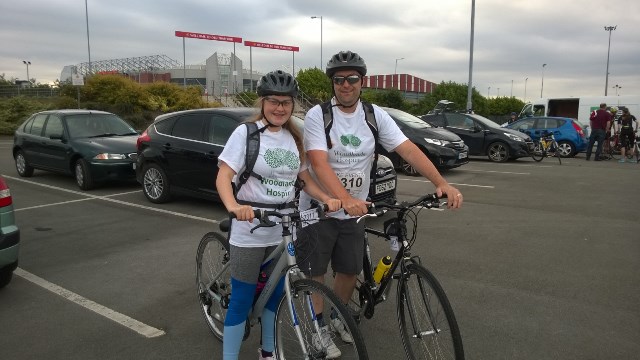 Looking the part - Emily and Ian wore Woodlands Hospice T-Shirts for their challenge
Well done and thank you to Emily and Ian for their incredible generosity – what an amazing duo!
If you're interested in completing a challenge to raise money for Woodlands Hospice, we can support you! Please contact our Events and Challenges Manager, Pauline Cox on 0151 529 2640 for more information.