Woodlands Hospice has many wonderful volunteers who dedicate their time and valuable experience. One of our valued volunteers has taken this generosity one step further and is undertaking a daring challenge in a bid to raise funds for the Hospice and its services.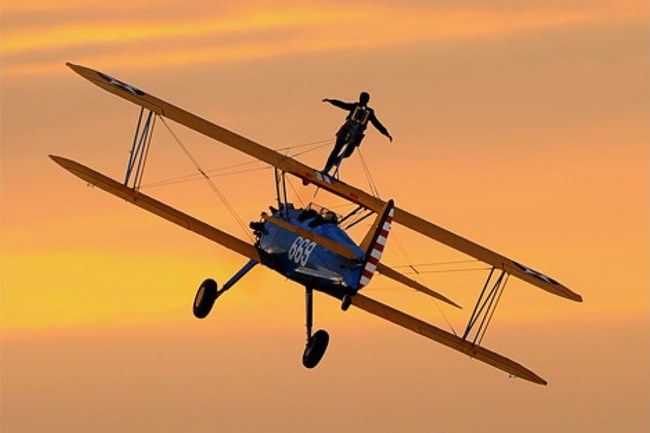 Wing Walking - A preview of what Debby will be undertaking on 6th August!
Debby McEvoy-McBrias is a Volunteer Ward Helper on the Hospice's inpatient unit, regularly helping out on a Wednesday and a Saturday. The self-confessed dare-devil has decided to complete a Wing Walk challenge in an effort to raise money for the Hospice, which involves standing on the wing of an aeroplane - whilst in the air! She will be taking to the skies in Yorkshire, at Breighton Aerodrome on Sunday 6th August 2017.
Debby revealed she got the idea to take part in the challenge after seeing celebrity TV presenter, Philip Schofield, 'Wing-Walking' on ITV's This Morning, alongside his mum. Debby commented, "I was so inspired after watching the segment on the show and thought, if Philip's mum can do it, I can too!"
The generous volunteer, who works as a Social Care Provider at Kirby Resource Centre when she's not volunteering, has been completing challenges for charity over the past 5 years. Over this time, she has taken part in sponsored walks, abseils and even sky dives but the wing Walk will be a completely new experience.
Debby explained her reasons for choosing to raise money for Woodlands Hospice this year:
"My chosen charity in the past has been the Roy Castle Lung Cancer Foundation, however, I decided to change it this year and give the money I raise to Woodlands Hospice. I've been volunteering at the Hospice for a year and it's such an amazing place. So many friends and family members, who have been affected by Cancer and other life-limiting illnesses, have such wonderful things to say about the Hospice and its staff that it only feels right to give something back."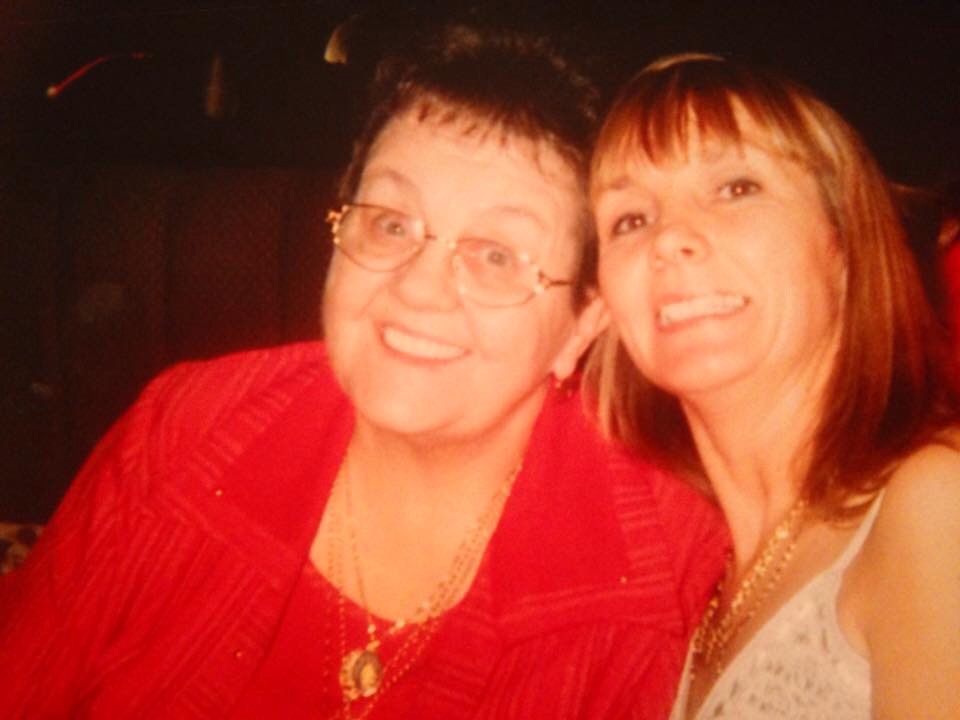 Debby (right) with her Mum, Mary McBrias
Debby also has a personal connection to this years' challenge and is dedicating the walk to her mum, Mary McBrias, after losing her last year. She added, "I am borrowing wings on the 6th August 2017 to fly the skies on the wings of an aircraft, maybe my mum will fly with me."
Debby is aiming to raise £1000 in sponsorships for the challenge and is approximately half way to her target. If you would like to support Debby in her fundraising, you can donate via her Just Giving Page.