Marie Foster and family have raised an incredible £10,410.29 through various fundraising activities in memory of Marie's mum, Julie Danson.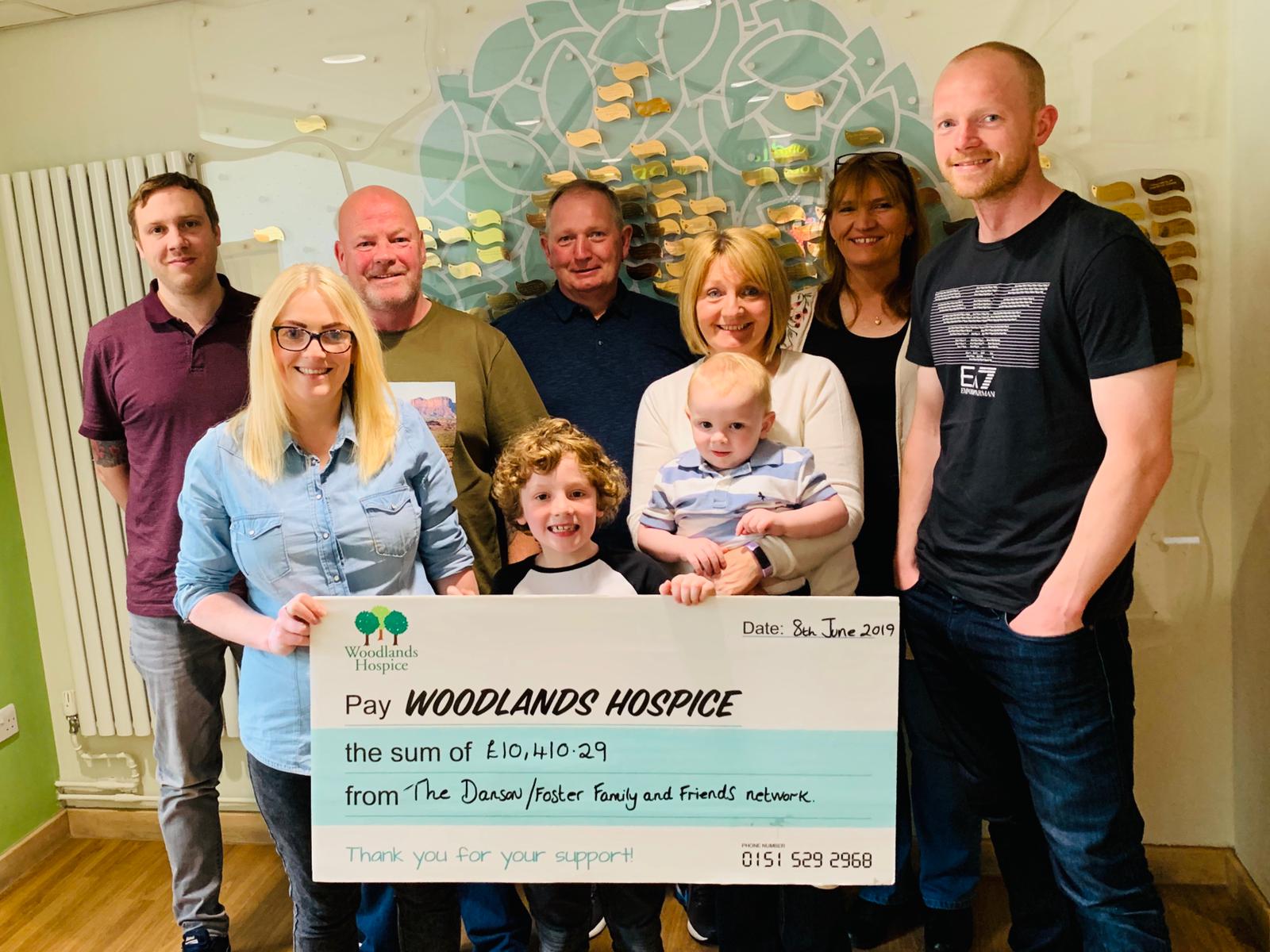 An inspirational lady, Marie Foster, has managed to raise over £10,000 in the last 2 years for Woodlands Hospice with the support of her family and friends. Marie started fundraising for Woodlands Hospice in memory of her own wonderful mum, Julie Danson, who sadly passed away in November 2017.
Marie and her family wanted to give something back to Woodlands Hospice following the care Julie received and therefore set about becoming their own force to be reckoned with and developing the 'Danson and Foster Family and Friends Network!" A Fundraising Group in the Tuebrook area of Liverpool, dedicated to hosting their own events, getting involved in Hospice activities and generally raising as much as possible to support Woodlands Hospice's services – with Marie spearheading it all. The group mainly consists of Marie's closest family including her Husband, Phil, her Dad John, her Brother John, her Auntie's Liz and Sue and Uncle Billy plus her dad John's family and close family friends.
Recently, Marie and co. organised a charity event in St Cecilia's social club, Tuebrook, with raffles, dancing and lots of fun. This event alone raised an incredible £3220.66 in total. They've also taken part in various Hospice run events including the Moon Light Walk, Light up the Night Walk and the Pirates and Princesses Event in Stanley Park. They sell lottery tickets, help at bag packing and bucket collections and even sell items at car boot sales or online to help raise vital funds.
The family don't plan to stop now they've reached the £10,000 mark with more events planned in the future including Coffee Mornings and more Charity Evenings in the pipeline. Thanks to the funds they've raised, the family have had 2 engraved leaves put up on Woodlands Hospice's 'Tree of Life' in Julie's memory, including one from Julie's grandchildren.
Even more amazingly, Marie manages to fit all of her fantastic fundraising activity around an already busy lifestyle, being Mum to Jack, 8, and Bobby, 2, as well as working part time at a local solicitor's office.
Paula Parle, Community Fundraising Manager at Woodlands Hospice, has been blown away by the family's support, commenting,
"Marie and her family have just been so inspirational in what they've achieved in such a short space of time and we're eternally grateful for what they've contributed to the Hospice. Ongoing support from members of our local community is what Woodlands Hospice needs to ensure we can continue providing our services for our patients and loved ones. We need to raise £4000 every day to achieve this and we can't do it without the support of amazing people like Marie and her family."
Paula is currently working with 5 Fundraising Groups within the local community, including Marie's group, but is always keen to recruit more!
"Including Marie's Fundraising Group in the Tuebrook area, we have support from Joanie's Café in Norris Green, 'ACE' – Alison, Cheryl and Elaine in Bootle, Shirley and Lauren Faulkes in Thornton and Pauline Walton in Litherland. However, our goal is to have fundraising groups set up right across North Liverpool, South Sefton and Kirkby, all supporting Woodlands and our cause – so if you're interested I'd love to hear from you and help get you started on your fundraising journey!"