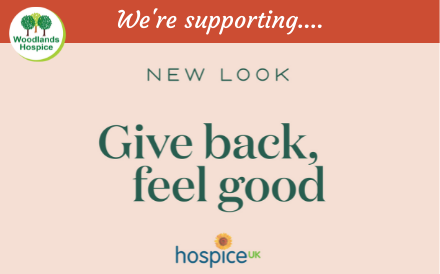 Woodlands Hospice Charity shop's in Orrell Park and Kirkby will be offering customers a New Look voucher when they donate a bag of pre-loved clothing as part of a new, nationwide fundraising partnership, 'Give back, feel good'.
The partnership, jointly run by New Look and national charity, Hospice UK, launched in September to encourage people to donate high quality pre-loved clothing to over 80 participating hospice shops across the UK in return for a discount code, redeemable in a local New Look store.
The 'Give back, feel good' partnership will initially support over 40 hospices across the UK with much needed donations, that will help provide care and support to people at the end of life.
Alice Edwards, Retail Area Manager at Woodlands Hospice said, "It is wonderful to be working with Hospice UK and New Look on the 'Give Back, feel good' scheme in our Kirkby and Orrell Park stores. We are always so appreciative of the donations we receive in our shops, so it is great to be able to give something back to those supporting us too."
Hospice UK's Director of Income Generation, Catherine Bosworth said: "Charity shops are a lifeline to hospices up-and-down the country, allowing local communities to support them to provide much-needed to care to those who need it most.
"We are really pleased to be working with New Look on the 'Give back, feel good' partnership, giving people the chance to raise vital funds, which hospices rely on to be able to offer outstanding care to the communities they serve.
"The pandemic has really highlighted the crucial role hospices play for people at the end of life, and their families. Hospice UK continues to support hospices across the country, working alongside the NHS, to make sure people get the care they need, now and into the future."
For a full list of participating hospice shops and New Look outlets, visit: https://­www.­newlook.­com/­uk/­hospiceuk