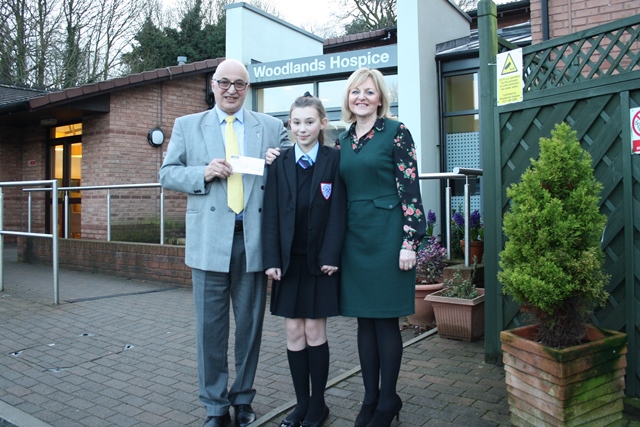 Tom Davis and Christine Peach, Corporate and Community Fundraising Manager, present Olivia Jones with her extra £150
A volunteer at a St Joseph's Hospice was so inspired by Olivia Jones's fundraising efforts, he has donated £150 of his own money to her cause.
The story, which previously featured on our website, revealed how Olivia had raised over £1000 for Woodlands, in memory of her grandfather Mervyn.
Tom Davis, who volunteers at St Joseph's in Thornton, read about Olivia's achievement in the Champion newspaper and contacted us with his offer of help. Now retired, Tom also helps out at North West Cancer Research as well as St Joseph's, where his father was cared for during his final days.
Carole Riley, Individual Giving Manager at Woodlands, said:
"We were delighted to welcome Tom to Woodlands to meet Olivia, her dad Dave and Nan Brenda. Tom was so full of admiration for Olivia that he wanted to give her the £150 cheque in person. He said he got a lump in his throat when he read about Olivia and was overwhelmed by the efforts she went to."

"Olivia's family are also rightly very proud of her, as we all are. Her Nan Brenda shared the story of Olivia telling her, whilst visiting her grandad, that she was going to get an engraved leaf for him on our 'Tree of Life', even though this usually requires donations of more than £1,000! For her to achieve this at such a young age is truly inspirational."
12-year-old Olivia, who attends Deyes High School in Maghull, had previously raised the £1,000 during 2017, after staging a variety of events and activities at school and for friends and family.
If you would like to find out more about our 'Tree of Life' please contact Carole Riley at Woodlands Hospice on 0151 529 4143 or e-mail: carole.riley@aintree.nhs.uk