Sister-in-laws Helen and Kathleen Melville took part in the Great North Swim at Lake Windermere on Saturday 10th June to raise money for Woodlands Hospice.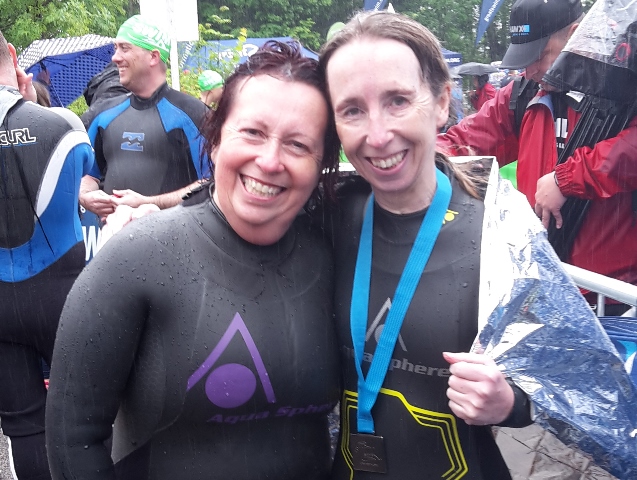 The proud sisters, Kathleen and Helen at the Great North Swim 2017
The ladies were inspired to take part in the long distance swim to support the Hospice who recently had cared for their brother-in-law, Kevin Beamer. When sharing the news with their families about the challenge, they also discovered another family member had received support from the Hospice.
Helen, who travelled up from her home in Devon to complete the challenge, said,
"It was a lovely event to take part in and a nice way to see the family all together again bringing Devon and Merseyside together. Kevin travelled up in a motorhome to show his support for us, which really was lovely. Unfortunately he couldn't watch us complete the swim due to the poor weather conditions but it was nice to know he was there cheering us on."
Helen also mentioned how well the event was organised, although the cold water came as a bit of a shock!
"It literally took my breath away, but thankfully the Swim Coach completed some aerobic exercises with us beforehand and told us the correct breathing techniques to combat the cold so it didn't slow me down too much!"
Helen added that this is the fourth time that Kathleen has taken part in The Great North Swim. The challenge has also inspired Helen and her daughter to take on more swimming events in the future, possibly at different venues around the country.
Helen and Kathleen have managed to raise around £2000 (including Gift Aid) as a thank you to the Hospice for all they have done for families on Merseyside.
We'd like to extend a big thank you to the ladies for their generous donation which helps us to continue providing our highly valued services to the local community.
If you're interested in taking on a challenge to help Woodlands Hospice and would like some ideas or support, please contact our Events and Challenges Manager, Pauline Cox on 0151 529 2640 or via email.