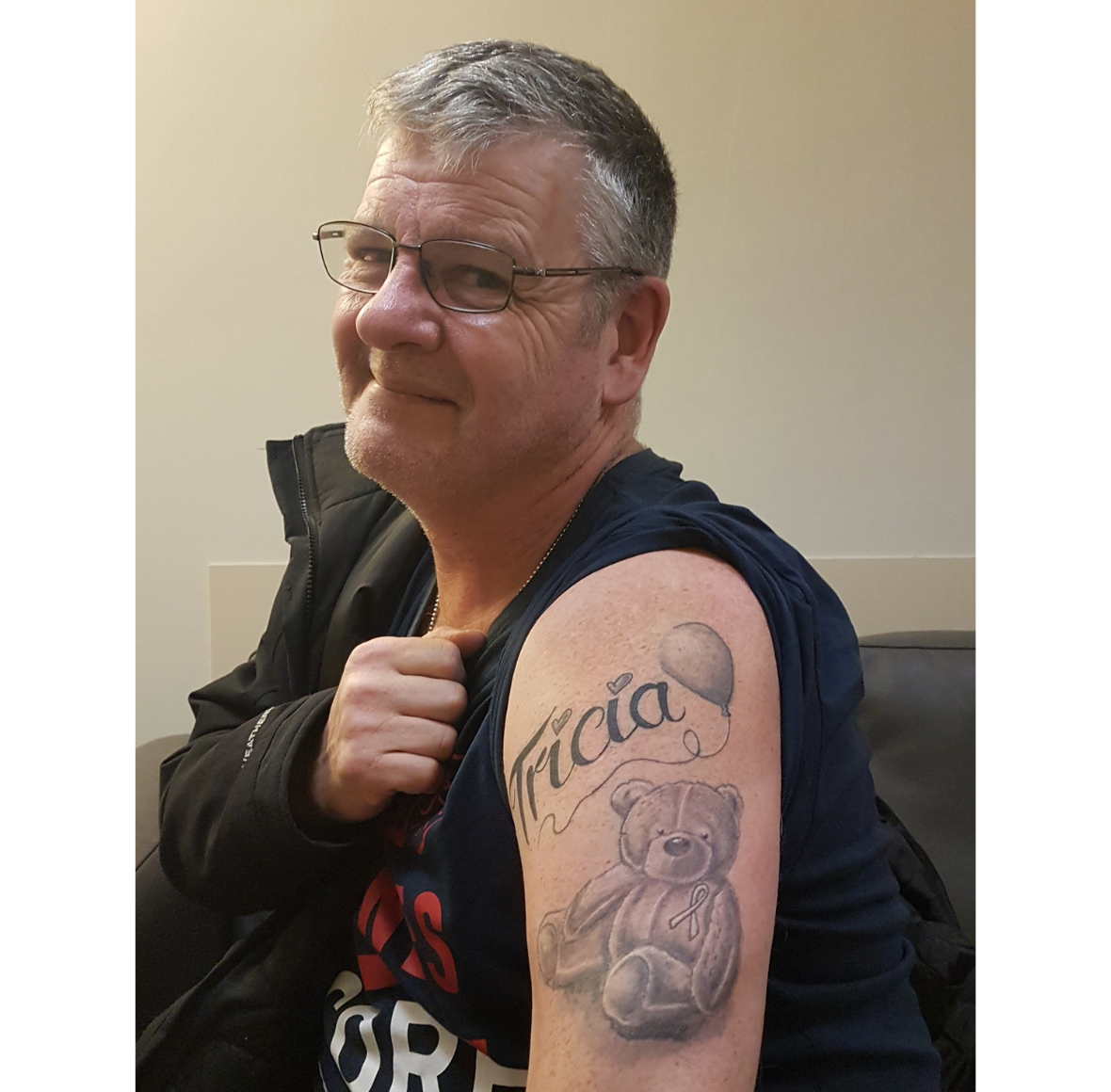 Tricia was first diagnosed towards the end of 2016, Kevin and their five children spent the next 18 months alongside their wife and mother while she underwent several rounds of chemotherapy and radiotherapy treatment ahead of her first stay at Woodlands Hospice.
Tricia spent a week at Woodlands Hospice during this first visit. Her second and last visit came towards the end of January 2017.
"From the day Tricia came into Woodlands Hospice, everyone was fantastic and we couldn't have asked for more," says Kevin. "The entire clinical team handled everything and this place… well there are no words to describe it. Everyone's got time for you and to be with her, and they explained everything. She was so well looked after."
Two months after Tricia died Kevin had no intention of taking up the bereavement support offered to them all by the Hospice's Patient and Family Services Team. But it was his daughter Natalie who noticed the need. "Natalie said she was going to make an appointment for me at Woodlands Hospice and I told her to leave it for now," Kevin says. "But she said 'no, you need to speak with someone who's looking from the outside in'."
Getting bereavement support through talking to Jan, a member of the Patient & Family services Team, proved to be a turning point for Kevin who is emphatic when he says: "It definitely helps – there are no two ways about it. The time spent talking to Jan have been the best. I felt the weight come off. Yet when I first started, I was a wreck. I couldn't talk properly, each week just crying my eyes out."
"I still have my moments. It's never going to go away. Tricia was the best thing that ever happened to me and she is never going to go out of my head. But I'm now on a new path now and I'm good within myself".
Marking this is a teddy bear tattoo featuring Tricia's name on Kevin's arm. "We'd always wanted to get tattoos and never did -now I have," he grins. "Tricia loved teddy bears. Everywhere I went I'd win or buy her a teddy bear. But this one is for life."
Bereavement Lead Jan Roberts says…
Losing someone you love is one of the hardest things we have to deal with but something most of us will experience at some time in our lives. It can be daunting and often people can feel overwhelmed and struggle to find a way through it all which feels right for them. The love and support of your close family and friends is so important at this time, but it may also be really helpful to speak to someone who doesn't know you or spend time with other people who have been recently bereaved too. Often people are reluctant to ask for help and try to carry on alone.
Woodlands Hospice provides support to everyone who comes through the door, whether you have a life-limiting illness or are a close friend or family member. When you're ill, it can be comforting to know that the hospice will care for your family and friends for as long as they need us after your death. It's so important that people recognise that they need help, do not feel they have to struggle alone and find the confidence to ask for it.