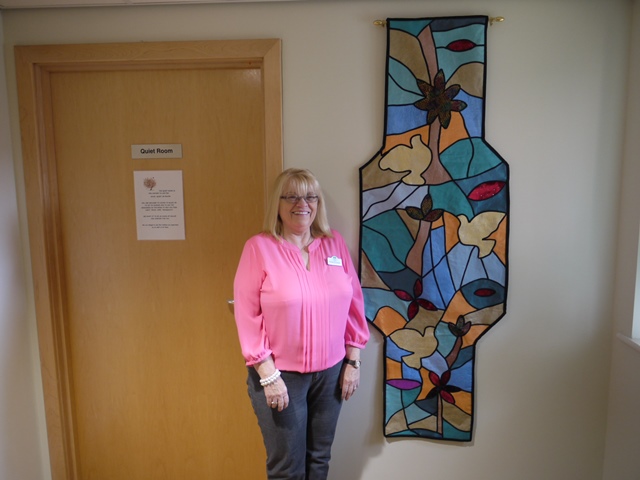 Volunteer, Sheila, with her creation on display outside the Hospice's Quiet Room
Our wonderful volunteer, Sheila Pinnington, dedicated her own time to create a beautiful cover for the table in the Quiet Room when it is used at occasions such as the Hospice's Celebration of Life Service.
Sheila, who has been volunteering at the Hospice for 6 years, spent over 3 months creating the design, which was inspired by the stained glass windows in the Quiet Room where the table is kept. The Hospice's Quiet Room is a dedicated space for patients, their visitors or even staff members to go to when they want to take some time to reflect on their thoughts or feelings, or to have a spiritual moment if they wish. The room has a calming, relaxed atmosphere and is located in a quiet area of the Hospice.
She said, "I noticed that the table had a mark on it where a plant had been placed during a service, so decided to approach the Family Support Team and ask if they'd be happy for me to create a cover for it. They were delighted with the suggestion so I came up with the design and got cracking!"
Sheila also used this as an opportunity to develop her own skills, using organza fabric to create the piece, a fabric she says she'd never worked with before.
"It helped me to develop my skills and also kept my brain working – I have restless legs and hands so I like to keep them busy making something when I'm sat at home in front of the T.V!"
Craft-loving Sheila, also produces knitted chicks for Easter every year with fellow volunteer, Anne McAdam, and sells them online donating all of the proceeds made to Woodlands Hospice. The duo plan to do the same again this year, after raising over £260 with last years' effort – only stopping because they ran out of chicks to sell!
Her latest creation now has pride of place on display outside the Hospice's Quiet Room, brightening the corridor, however, it will be used as a table cover for important occasions such as the Celebration of Life which the Hospice hosts twice a year, to remember patients we have recently lost.
The Family Support Team we're delighted with the cover, with Pastoral Support, Mark Pringle, commenting,
"It has such a beautiful finish and really captures the spirit of the Quiet Room. It is a really lovely thing for Sheila to have done, we're very grateful."
Sheila, who is quite rightly proud of her work, plans to take the quilt to display her design at the Waterloo Quilting Exhibition next year. She also added that she has stitched a special message inside the quilt that reads – "Designed with Love and Made with Pride."
A huge thank you to Sheila for her fabulous work!