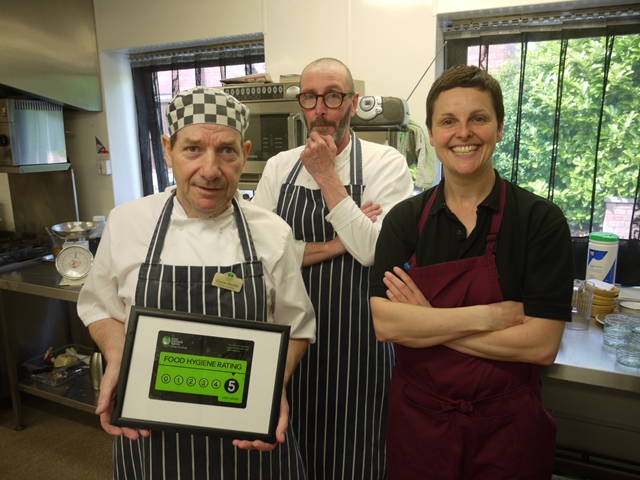 Woodlands Hospice were delighted to retain their 5-star rating following a recent inspection from the Food and Hygiene Standards Agency.
During the inspection, Woodlands Hospice was scored on three key areas which included Food Hygiene and Safety, structural requirements and facilities and confidence in management and controls. The catering team were beyond thrilled to receive the highest possible score in all three categories and retained their 5-star rating for fourth year following the last inspection which took place in 2017.
The Catering Team at Woodlands Hospice provides delicious, fresh food for the Hospice's inpatients, personalising meals to individuals' dietary requirements and preferences. They also cater for the Hospice's onsite Café, 'The Green' as well as catering for Hospice Events, Education sessions and Groups held at Woodlands.
Karen Mullarkey, Facilities and Services Manager at Woodlands, said: "We're all so proud of our Catering Team and volunteers for retaining this fantastic rating. Our patients and their visitors often comment on how much they enjoy the food and the service that our catering team provides and it can really make a difference to their overall experience at the Hospice, so it was wonderful to see their hard work and dedication rewarded in this way."
If you would like more information about the work of the Hospice or if you would like to find out how you can help support the care they provide, please contact Woodlands on 0151 529 2299 or visit www.­wood­land­shos­pice.­org.