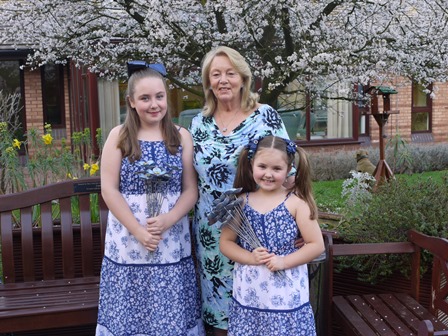 Woodlands Hospice's popular Forget-Me-Not Campaign is back allowing supporters the opportunity to celebrate a loved one with one of our beautiful Forget-Me-Not flowers. Each flower is individually handcrafted from durable steel, in the delicate Forget-Me-Not blue and will make an enchanting addition to your garden.
Originally designed for Woodlands Hospice's 20th anniversary, the flowers have proved to be a popular way of celebrating the life of a loved one and have been in high demand each year that we have ran our campaign.
When dedicating a flower, you will receive an acknowledgement letter and a Certificate of Dedication in the post and your flower will be placed on display in the Hospice gardens throughout the month of July. You will then be invited in at the beginning of August to view the display and collect your flower and have the opportunity to talk to the Hospice staff if you wish.
The summer display in our gardens is vibrant, enchanting and heart-warming to know that each flower is dedicated to someone who is very much loved.
One supporter who has taken part in our Forget-Me-Not Campaign each year is Linda Arnold, after her Husband, Billy, was cared for at Woodlands before passing away in 2015. Linda shares why it is important to her and her family to support our Campaign,
"The staff and doctors at Woodlands showed us such great compassion, kindness, care and attention during Billy's stay. Always there with a smile to lift our spirits, they helped make a very difficult time easier to cope with. They became like family and nothing was ever too much trouble for them.

I would like to thank such wonderful and special people for their love and support. They took away the worries of day to day life allowing me to be a wife and not a full time carer. This enabled Billy and I to spend very precious time together.

My family and I will always endeavour to support Woodlands Hospice in any way we can, especially the Forget-me-not Appeal as it is so very close to our hearts."
Through this simple act of celebrating a loved one and supporting your local Hospice, you will be helping to support others then they are facing a really difficult time in their life.
If you would like to take part in our Forget-Me-Not Campaign and celebrate the life of someone you love, please do so online here or call Carole Riley on 0151 529 4143 to dedicate a flower over the phone or find out more information.
Further information, including Forget-Me-Not collection dates, can also be found here.