Irene Foxcroft, a working mum to 3-year old, was having a busy morning with workmen in her house laying some flooring just as Woodlands Hospice's Lottery Manager, Philippe Craike, knocked on her door. Philippe was out and about in the community to spread the word about Woodlands Hospice and how signing up to their lottery scheme can have a huge impact on supporting the work of the hospice for its patients and their families.
Seeing Irene was busy, Philippe offered to return another time but gave Irene the opportunity to purchase some lottery scratchcards before he left. Irene said,
"I bought a couple of scratchcards but popped them on the side and completely forgot about them with everything going on. It was only when the baby found them a couple of weeks later and brought them over to me that we actually did them. I couldn't believe my eyes when we revealed the £1000 prize! It was easy, I thought I must have got it wrong!!"
Irene immediately contacted the hospice who confirmed her amazing win. Irene and her partner, Adam, who both work for Transport company, Transpenine, visited Woodlands Hospice last week to collect their £1000 cheque from Philippe in person.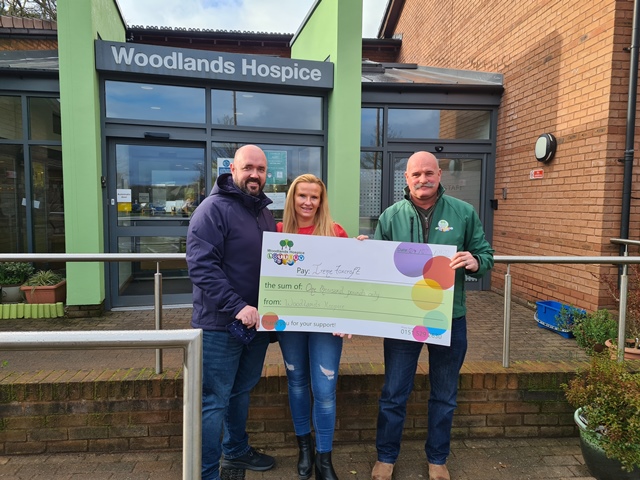 It was a particularly emotional visit for Adam, who's close friend received care at Woodlands Hospice before he passed away. During their visit, both Adam and Irene took the opportunity to sign up to the hospice's weekly lottery and buy some more scratchcards in celebration of their win.
On her return home, Irene was bowled over to win another £100 prize with her new scratchcard haul! She certainly has a touch of luck and it is most deserved!!
A huge thank you to Irene and Adam for supporting our lottery scheme, it really makes a valuable difference to our patients and their families, and it is wonderful to be able to give something back to our supporters too!
Woodlands Hospice scratchcards are £2 per game and available to purchase from the hospice charity shops or by contacting the hospice directly. If you're interested in purchasing some scratchcards you can contact Philippe Craike on 0151 259 2630 / 07463952537 or email Phillipe.craike@liverpoolft.nhs.uk. You can also become a weekly lottery member for just £1 a week by signing up here.