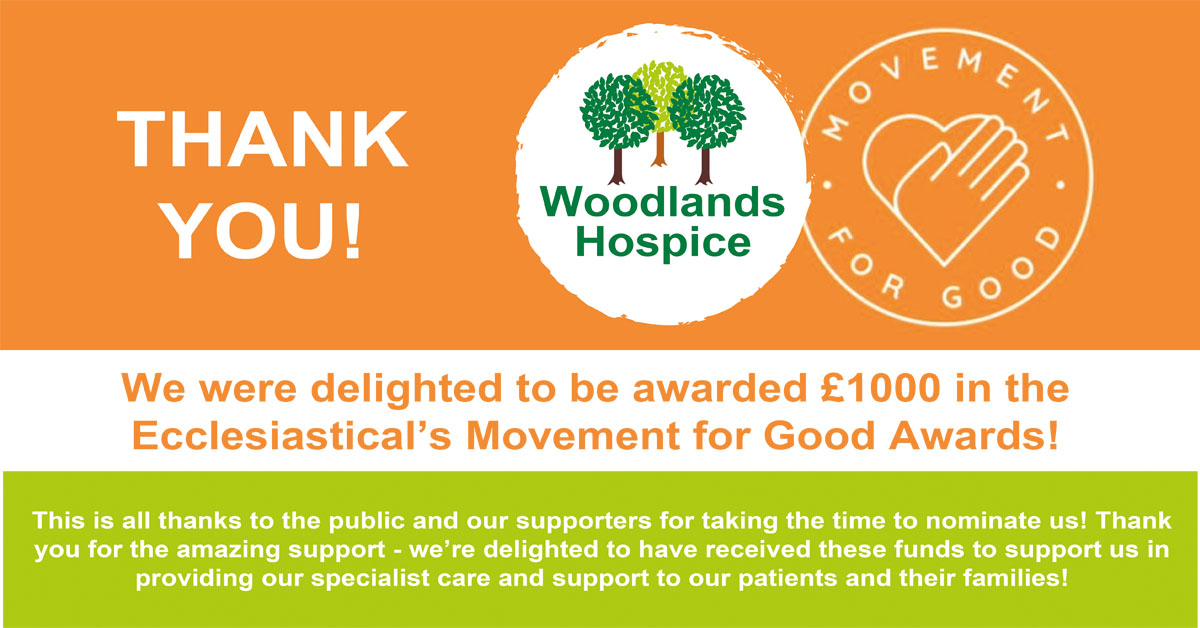 Woodlands Hospice was nominated to win a £1,000 boost as part of specialist insurer Ecclesiastical's Movement for Good awards, which is giving £1million to charities this summer.
The £1000 donation received from the Movement for Good Awards will help Woodlands Hospice to continue providing their exceptional, specialist palliative care services for their patients and provide support for patients and their loved ones.
Members of the public were invited to nominate causes close to their hearts, with 500 gifts of £1,000 available for donation. Woodlands Hospice was one of more than 7,000 charities which were nominated by an amazing 98,000 members of the public to be in for a chance to win a financial boost.
Kim Smith, Head of Fundraising at Woodlands Hospice was thrilled to have been selected as one of the winners, stating, "We were absolutely delighted to receive this fantastic donation from Ecclesiastical'­s Movement for Good Awards. Woodlands Hospice needs to raise at least £3,500 per day to continue to provide our services for our patients and their families so every penny helps to make a difference!"

Kim added, "To know this donation has been received through the public taking the time to nominate Woodlands Hospice makes it that little bit more special. It's great to know that we have such amazing support from the public and that the work of Woodlands Hospice is being recognised within the local community – thank you to anyone who nominated us!"
Mark Hews, group chief executive at Ecclesiastical, said: "As a company whose purpose is to contribute to the greater good of society, charitable giving is at the heart of our business. We know that £1,000 can make a huge difference to the incredible work that charities do and we're looking forward to seeing how this financial boost will change lives for the better."