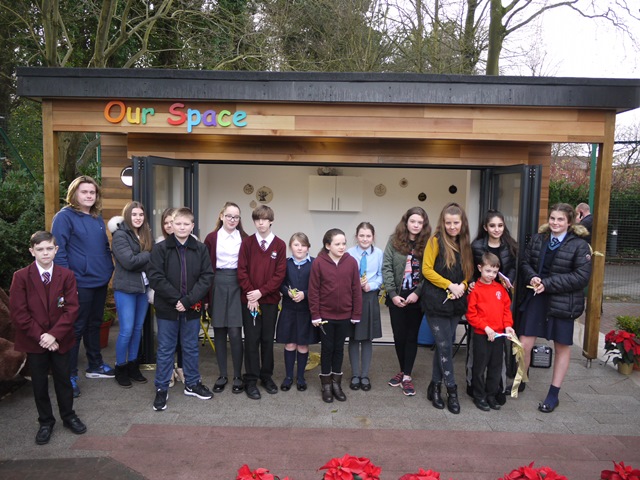 The official opening of a Children and Young People's Pavilion took place on Monday 17th December at Woodlands Hospice when the name of the Pavilion was also unveiled. The Pavilion had been built and designed with total input from the Children and Young Persons Support Group (YPSG) at the Hospice.
The project has been an exciting development which aimed to provide a safe, comforting, creative environment in which children and young people who are bereaved or have a family member who is being cared for by the Hospice team can have opportunities to talk and express themselves.
The group ran a competition to find a name that would encapsulate the use and purpose of the Pavilion with the winning entry of 'Our Space' being announced at the opening.
Many of the children and young people and their families attended the opening along with some of the funders, Crossfield Construction and their subcontractors and others from the community who have helped this project become a reality.
Rose Milnes, Chief Executive at Woodlands Hospice said: "The Pavilion project sparked off a great deal of interest with 14 different funders contributing to the overall scheme including The Screwfix Foundation, Morrisons Foundation, Cobalt Community Trust, UKH Foundation, Sainsbury's Argos, One Vision Housing, Woodlands Bereavement Group and John McAleavey raising over £45,000 in all."

"Our Family Support Team will ensure this dedicated child friendly area meets with the children and young people's needs. Children and young people have the right to be heard and to be assured that their views, fears, concerns, hopes and aspirations matter and are at the heart of the care and support we provide. This will include a range of therapeutic support including psychosocial and pastoral support, young carer and sibling support, pre and post bereavement, creative and group therapy, counselling and reflective services".
If you would like more information about the work of the Hospice or if you would like to find out how you can help support the care provided please contact the hospice on 0151 529 4143 or click here.