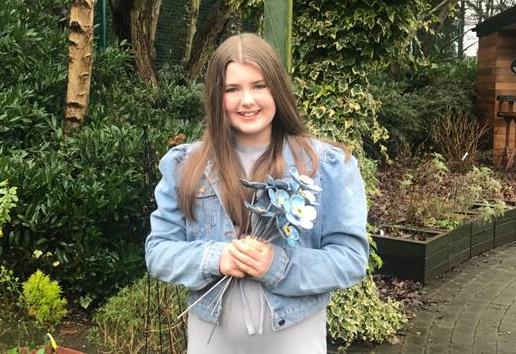 Woodlands Hospice's annual Forget-me-not campaign is underway to allow people to dedicate a flower to a loved one. People can choose to dedicate the traditional metal garden blooms and plant a striking steel flower at home or go virtual via the online meadow option and help fill the online field with flowers.
Woodlands Hospice Individual Giving Manager Carole Riley said: "We're delighted to be launching our Forget-me-not campaign for 2021. Last year, our campaign began at the very start of the national lockdown and we were blown away by the support we continued to receive over what was an uncertain time for many. In 2020 we launched our virtual Forget-me-not meadow which allowed people to dedicate a flower online and we have brought this back for our 2021 campaign to give you the choice of a traditional, metal flower or a virtual bloom to dedicate to your loved ones."
This year, as restrictions begin to ease, Woodlands Hospice hopes to host its usual collection weekend at the beginning of August (6th-8th) to allow all those who have chosen a metal flower, and wish to do so, to view them in the hospice gardens and collect their own. This will be based on it being safe and working within government guidelines and there will be an option for flowers to be posted for those who would prefer this.
Carole added, "It was disappointing to not be able to host our collection weekend last year so we're looking forward to the first weekend of August to hopefully welcome supporters back into our gardens to view our beautiful Forget-me-not displays. Whether you dedicate a flower through a beautiful handcrafted flower or online in our virtual meadow, all the proceeds from your dedication help towards raising the £4,000 we need each day to continue supporting our patients and their families."
One person who has benefitted from the support provided by Woodlands Hospice is Tori Edwards. The 14 year old has experienced the care of Woodlands Hospice when her Dad, Mark, was a patient here in 2017 and sadly passed away. Since that time, Tori has accessed the Family Support Team at Woodlands Hospice to help her cope with her bereavement.
Tori said, "Woodlands Hospice has supported me through everything, that's why I wanted to support them and their Forget-me-not Campaign. I feel happy when I am at the hospice. It is more like a home-from-home and I think the extra support they have for families and mental health is amazing.'

"My favourite memories in the hospice are spending time in the gardens with my Dad, doing cartwheel competitions with my sister and just going and being a family. It's just a great place."
Your Forget-me-not dedications help us to continue supporting our patients and family members like Tori. To dedicate either a virtual or steel bloom to a loved one, or to find out more click here.