Forget-me-not Campaign 2022
Remember a loved one by dedicating a meaningful Forget me not flower and help Woodlands Hospice continue improving the lives of our patients and supporting their families.
Choose from a striking steel Forget me not to display in your own garden or a field flower in our virtual meadow.
Handcrafted metal Forget me not Flower
When you dedicate one of these timeless flowers, you'll also receive a certificate in the post to mark the occasion.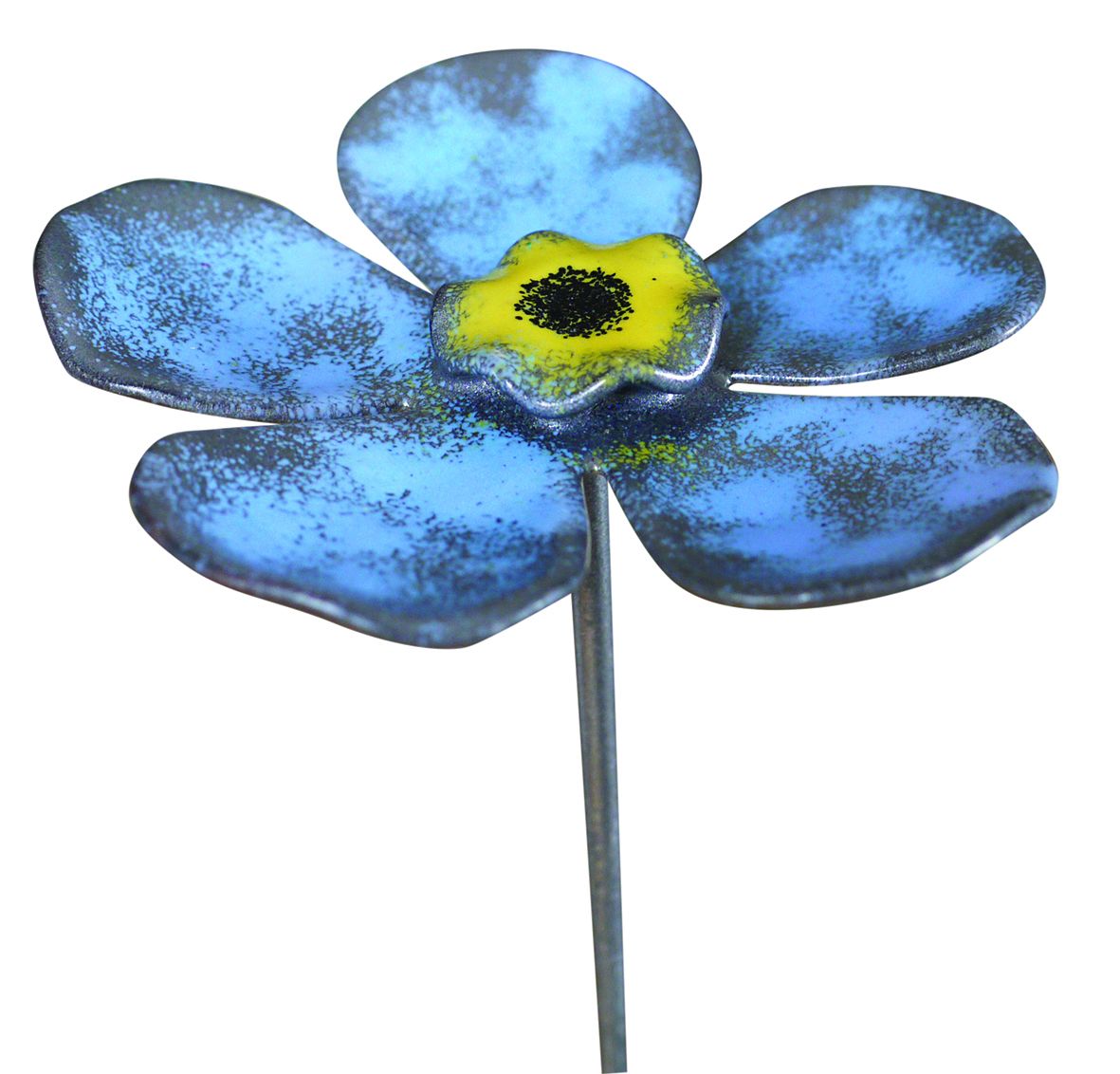 Alternatively, you can download a paper version of the form to print out and post to us or call Carole Riley on 0151 529 4143.
Our Forget me not flowers are displayed in the hospice gardens throughout the month of July. You can choose to receive your metal flower in the post (at a small charge of £4.50 to cover postage & packaging) or you can select to collect your flower(s) at one of our collection dates in August 2021.
Virtual meadow Forget me not
Dedicating a bloom in our virtual meadow means alongside a message and optional photo, you'll be helping to fill it with a haze of these beautiful blue flowers. Click the picture, then simply hover over the screen to be offered a flower. Once you've selected your favoured Forget me not, complete your dedication and watch it transform from white to blue.
If you dedicated a flower on or before 11th April 2022, please click here to view our 2021 meadow and messages.
Our Forget-me-not Campaign is being supported by the family of Allan Parker. Allan's wife Pat and her 3 grandchildren, Scarlett (7), Lucas (6) and Amber (3) have continued their support for Woodlands since Allan's loss in November 2019 after a 5-and-a-half-year battle with Motor Neurone Disease.
Pat recalls from the first week of Allan's diagnosis how Woodlands took them as a family under their wings never leaving their sides throughout that journey and beyond. Pat could not speak more highly of all the staff and volunteers saying how incredible they were. Pat and Allan made some wonderful friendships not only with the staff but also other patients and she says she can't thank the hospice enough, describing them as a "GIANT HUG of holistic support, love, care, compassion and friendship." She says everyone at Woodlands will be in their hearts forever.
Collection Weekend
We will be holding our Forget me not collection weekend Friday 5th – Sunday 7th August within our hospice gardens, with refreshments available to purchase. If you wish to collect your Forget-me-not flower during this weekend, simply select your preferred date when completing your dedication via the link above or the printed form.
Alternatively, we can post your flowers to you and this option is also available to check via the link above or via the printed form. Please note, postage and packaging charges apply when selecting this option at £4.50 postage for 1-4 flowers.
If you have any questions regarding our collection weekend or postage options, please contact Carole Riley who will be happy to assist you and answer any queries. Carole can be contacted on 0151 529 4143 or via email: carole.riley@liverpoolft.nhs.uk.
For those who wish to leave their forget me not flowers in the hospice gardens these will be put out on display as planned.
Car Parking
Please note parking will be in the grounds of the Aintree Hospital which is 'chargeable' at the designated pay points, aside from a 'minimum' of 20 minute free period. There is limited mobility parking within the hospice grounds.