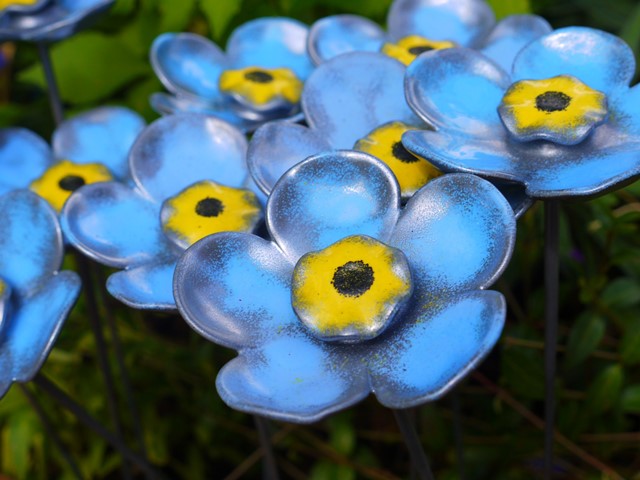 Each year at Woodlands Hospice, we hold a Spring/Summer Campaign where our supporters dedicate one of our beautiful, handcrafted Forget-me-Not Flowers in memory of a loved one. This year, like most other things, we were impacted by the ongoing covid-19 pandemic, however, we're delighted that our supporters were still able to actively take part in our campaign.
Our Individual Giving Manager, Carole Riley, organises the annual event and gave us her thoughts,
"We are delighted that our Forget-me-not Campaign has been very successful by way of the numbers of flowers dedicated in memory of loved ones despite the Covid-19 pandemic. The introduction of our online Virtual Meadow has also been very popular. This new online option to dedicate a forget-me-not in our meadow had been planned prior to the pandemic but has certainly helped us during this difficult time when we were not able to go out into the community to promote this important annual in memoriam campaign to generate vital income for the hospice."

Carole continued, "Unfortunately, we were not in a position to hold the collection weekend this year which was disappointing as we know coming to the hospice to collect the flowers means a lot to our supporters. We did however ensure that everyone was able to get their flower/s with the majority of them being sent out in the post or collected at a pre-arranged time within the social distancing guidelines. Some people have opted to leave their flower/s on display in the hospice gardens indefinitely or post COVID restrictions being eased in the future."
Flowers are now kept in stock all year round due to people wishing to dedicate one at the time of the loss of a loved one so if you wish to dedicate, purchase a forget-me-not or have not yet collected your flower please speak with Carole Riley, Individual Giving Manager on 0151 529 4143 or find more details and visit our virtual 'meadow' here.