Light Up A Life 2022
Thank you so much to all those who supported our annual Light up a Life Campaign by way of dedications, donations or attended one of our services.
Your support to this popular campaign is very much appreciated by everyone at Woodlands. We were delighted to be able to bring the service back to the Hospice in December 2022 and we have received a lot of positive feedback from families and supporters who came along either for the first time or those who have been doing so for many years. It was so lovely to see so many patients, families and supporters – all joining together once again as a Woodlands Family here at the Hospice and do hope that you will join us once again this year on Sunday 3rd December.
Here at Woodlands Hospice we know that Christmas can be a time for togetherness which can be a difficult time if you have lost a loved one, or if you cannot be with someone you love. Our Light up a Life appeal gives you the opportunity to celebrate the life of a loved one by dedicating a light/s on our Christmas tree in December.
Our beautiful Christmas tree at the Hospice is truly an amazing sight. Seeing it adorned with hundreds of lights and knowing that each light is dedicated to someone has such a special meaning. Every light that shines out from our Christmas tree is a heartfelt tribute to those who are missed but definitely not forgotten. For each light you dedicate you will receive a special card containing the name of your dedication.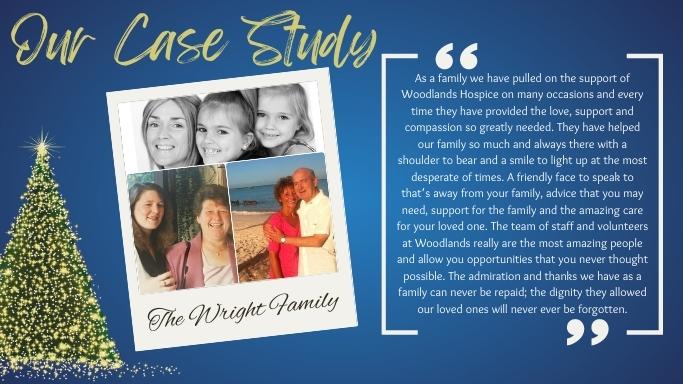 Click the button below to make your dedication. Please note, you will also be able to view and purchase our Light up a Life merchandise via the same link below. If you wish to purchase merchandise and wish to make a dedication, please ensure you indicate your dedication amount alongside your merchandise selections.

By dedicating a light to your loved ones, you will not only be celebrating their life, you will be helping us to support our patients and their families at a time they need it most.
Our Virtual Tree
Once again as part of our annual Light up a Life Campaign you can dedicate a light on our Virtual Christmas tree without leaving home. Dedicate a light on our virtual tree and leave a personal message when you donate the amount of your choice. You can also upload a photo if you wish to do so. Once the light has been dedicated the message can be viewed when hovering over the light on the tree allowing you to share the reasons why you have donated with others. There will also be an opportunity to dedicate the Star at the top of the online tree for a higher donation option. Please click the button to dedicate a light on our 2022 Virtual Tree.

If you would like to write a message that will hang on one of the hospice Christmas trees inside the hospice building, you can do so by
downloading our bauble template here
and posting it back with your written message to: FAO Fundraising Team, Woodlands Hospice, AUH Campus, Longmoor Lane, L9 7LA.
We are also delighted to offer our range of Light up a Life merchandise which is available to order alongside your dedication. The prices listed include postage.
BUY NOW or to order over the phone, call 0151 529 4143.
Light up a Life services:
We are delighted that we will be once again holding our Light up a Life Service at the Hospice on Sunday 4th December, 6:00pm, where you will be most welcome to come along and join us. To celebrate bringing the service back to the Hospice we will be introducing some new ideas as to what is on offer before and after the switch on service so we look forward to seeing you for the return of this popular and important annual event. In addition to the Hospice service we will also be holding a service at St Andrews Church in Maghull on Monday 5th December, 7:00pm and St Michael's Church Blundellsands on Sunday 27th November, 4:00pm, where we will also have a tree of lights.
You can view one of our previous services and light switch on events in the video below:
Thank you for your ongoing support in helping Woodlands Hospice Light up a Life appeal, which will help us to provide our very special care for our patients and their families this Christmas.
Kindly sponsored by Peace of Mind Wills LTD