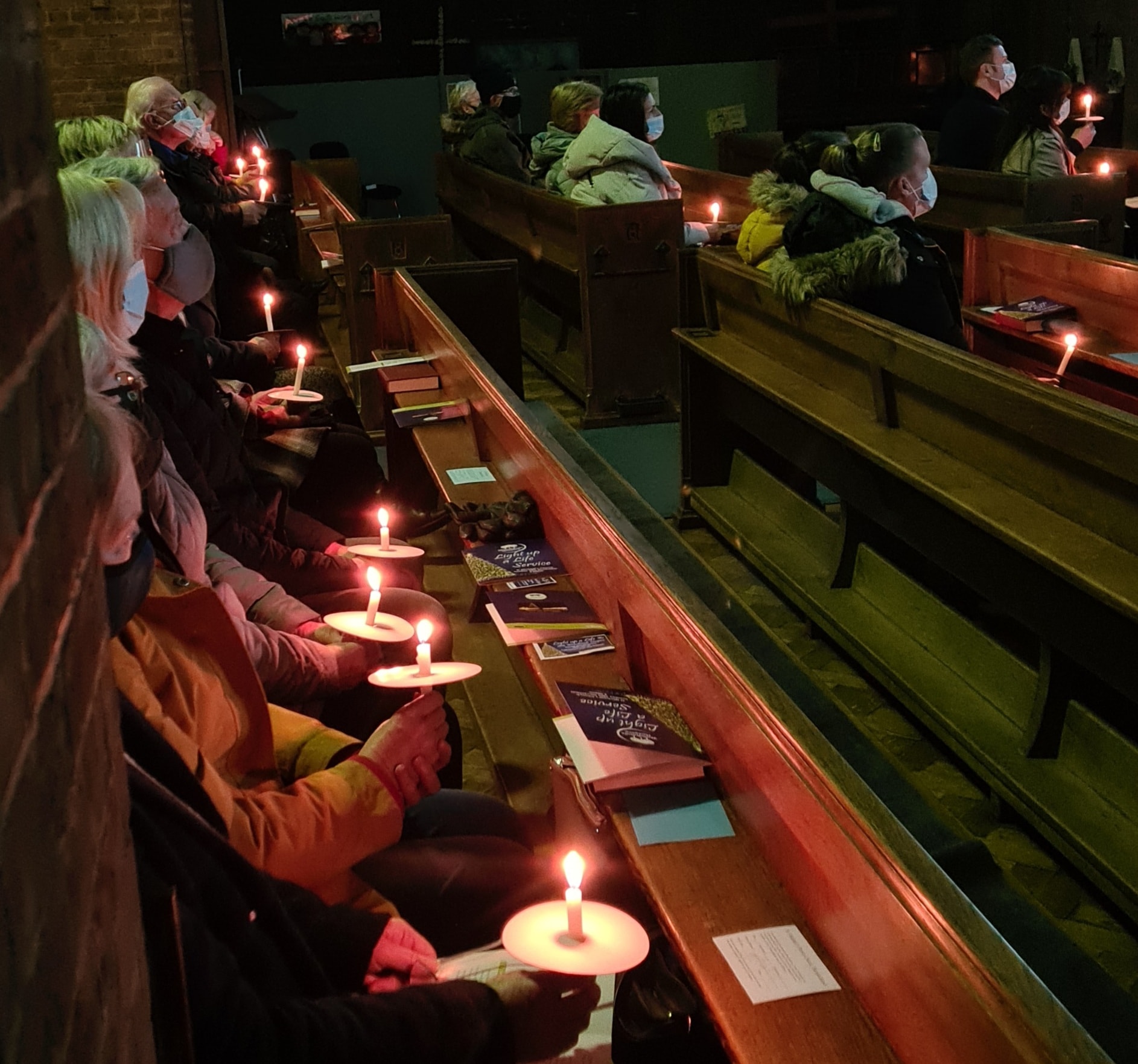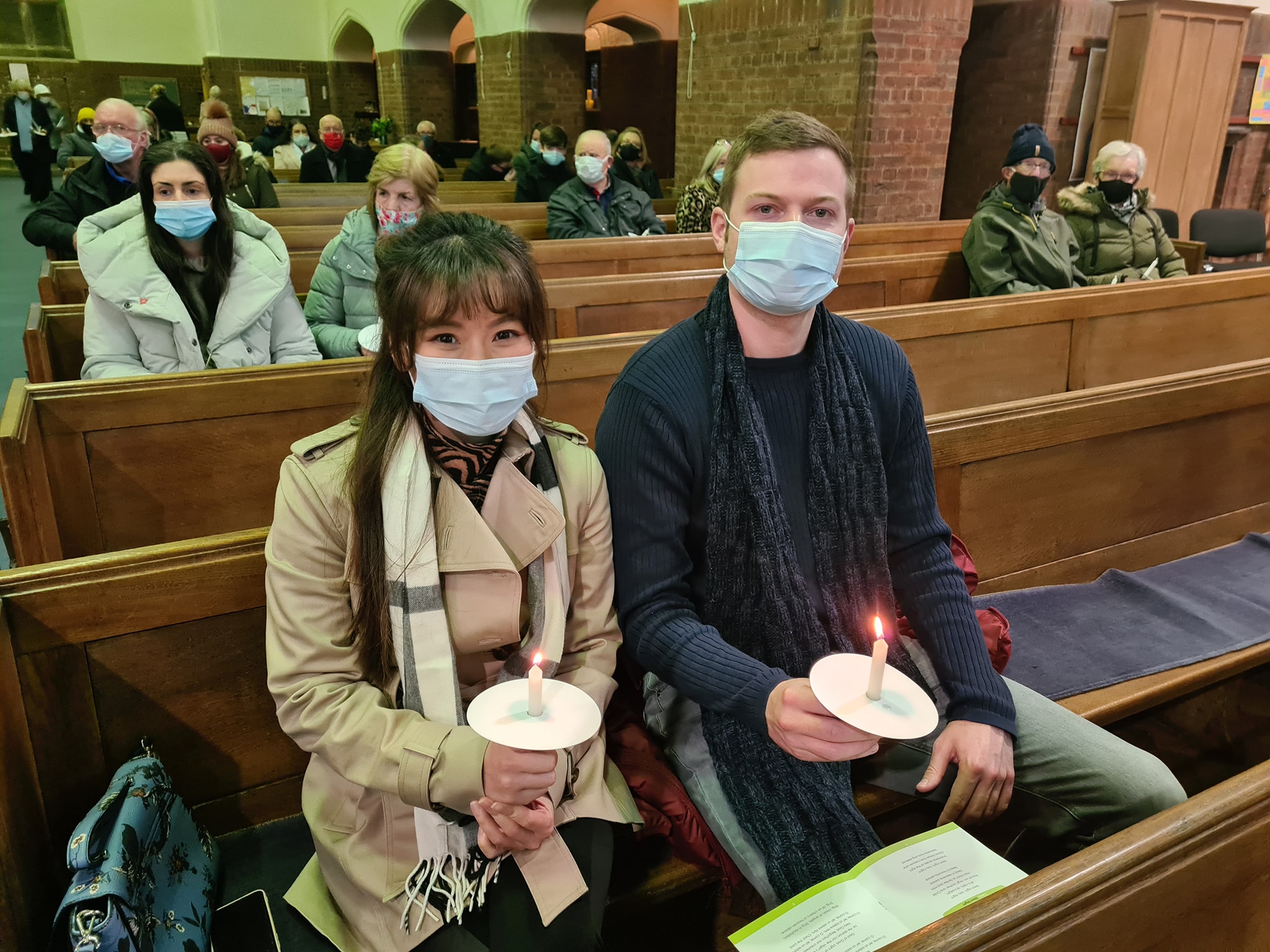 We were delighted to hold our first of 3 Light up a Life services at St Michael's Church in Blundellsands on Sunday 28th November 2021. This is the first service we've been able to hold in the community to celebrate our Light up a Life Appeal since 2019, with our 2020 service taking place online due to the pandemic restrictions in place.
The service, led by Reverand Neil Short and hospice Patron, Alison Perry OBE, gave our supporters the opportunity to come together and celebrate their loved ones. The service included readings from hospice staff, Mark Pringle our Pastoral and Spiritual Care lead and our volunteer, Ali Moore as well as Christmas Carols, a blessing and lighting candles of remembrance.
Our supporter, Tony Bonner, shared his experience of care within Woodlands Hospice after his sister Dawn was a patient in 2016. Tony gave an emotional speech, followed by switching on the Christmas lights which represent the dedications we receive through our Light up a Life Appeal.
Tony shared, "Dawn's fear going into the hospice was understandable but the immediate holistic care she received from the medical team to the catering staff allayed all of her fears and reassured us, her family. She was in for 2 months and went home for a month before her final journey back. There was no fear the second time, she knew her care would be second to none and we, her family, no longer feared for her. We had trust that Dawn would be comfortable there."

"The end came and the compassion and empathy we witnessed enabled our acceptance. Thank you Woodlands Hospice."
Our next Light up a Life service will take place on Tuesday 7th December, 7pm at Holy Name Church in Fazakerley. We will be joined by our supporter, Pat Parker who will be taking part in our light switch on here. Pat also shared her experience with us.
Pat said, "My husband, Allan, a husband, dad and grandad, passed away at Woodlands Hospice in November 2019 after a 5 and a half year battle with Motor Neurone Disease. From the first week of his diagnosis, Woodlands Hospice took us as a family under their wings and never left our sides throughout that journey and beyond."

"All the staff and volunteers were incredible. Allan and I made some wonderful friendships not only with the staff but also other patients. We can't thank the hospice enough and can only describe them as a GIANT HUG of holistic support, love, care, compassion and friendship. They're in our hearts forever."
Our third and final service will take place on Thursday 9th December, 7pm at St Andrew's Church in Maghull. We'll be joined here by Alicja Reilly who will perform the switch on. Alicja and her daughter, Lacey, experienced our care when her husband Chris became a patient. She now volunteers at the hospice.
Alicja said, "Woodlands Hospice is a truly special place with incredible staff and volunteers. It is hard to put into words its importance, but I will try. My husband Chris and I, together, just made perfect sense. With the arrival of our daughter, life was perfect. Then cancer came to destroy our world. That was when Woodlands Hospice stepped in. They provided direct support to Chris but also offered support to us all."

"Woodlands Hospice gave Chris the most important gift of all, the comfort of knowing that they would support his girls, when he no longer could. Woodlands continue to help us find our way. Ultimately it allowed Chris to let go peacefully, reassured that Lacey and I would be O.K. Something that we will be eternally thankful for."
Supporters can dedicate a light in the Woodlands Hospice Light up a Life Appeal and help the hospice to continue their amazing work with patients and those closest to them. To dedicate a light to a loved one and for further information about each service or how you can support the hospice's Light up a Light Appeal, please visit
www.­wood­land­shos­pice.­org/­light-up-a-life
.
Special thanks to the local businesses who have supported our appeal, including the campaign sponsors, Peace of Mind Wills and Bell Lamb & Joynson and those that supported our services including, Hayes and Finch, Orrell Park Pharmacy, Christian Funeral Services and Karena Artisan Florist.